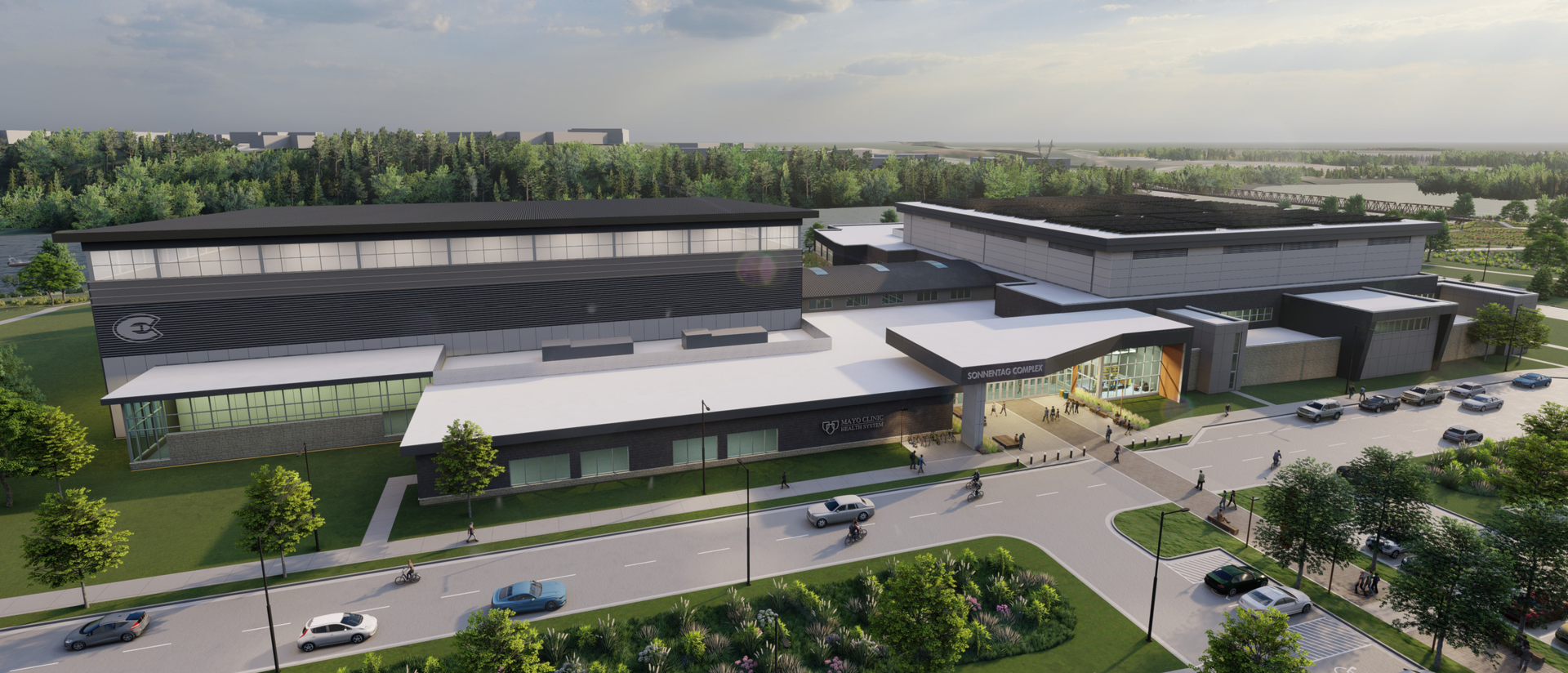 Sonnentag project moves forward after student vote
Final design and development plans are underway for the $75 million Sonnentag Complex Event & Wellness Center thanks to University of Wisconsin-Eau Claire students' support for the project.
A total of 61% (1,019) of the students who voted April 12-14 were in favor of financially supporting operations of the proposed complex after it is built; 38% (640) of students voted no.
"Since the Sonnentag gift was first announced in 2014, generations of student leaders have collaborated with our partners to envision a facility that maximized benefit to our students and to western Wisconsin as a whole," UW-Eau Claire Chancellor Jim Schmidt says. "I'm proud to see students finalize their support for this visionary public-private partnership, which will benefit generations of Blugolds to come."
The referendum supported a fee of not more than $90 a semester for use and maintenance of the complex. Students would not begin paying the fee until building construction is completed and occupied.
"The students deserve a building that is accessible and sustainable for their big events, like graduation, concerts, sporting events and more," says Anna Ziebell, UW-Eau Claire's student body president. "This facility will strengthen our community relations, give UW-Eau Claire a state-of-the-art event center, and overall, positively impact this campus's future."
The project will continue through a detailed development schedule, including securing needed approvals from UW System Administration. Construction of the complex on the land on Menomonie Street adjacent to Hobbs Ice Center and along the Chippewa River is expected to commence this year.
"With the generous gifts of land and financing from the Sonnentag Family Foundation, followed by the support of the university's students, we're one step closer to making this project a reality," says Kim Way, UW-Eau Claire Foundation president. "This is something that will meet not just university needs but also the needs of the entire Chippewa Valley region. We are deeply committed to honoring the students' faith in this project and will deliver something about which they can be proud."
The public-private partnership project would include a major events center that could replace 70-year-old Zorn Arena with a facility that has a capacity of up to 5,000 people. Other planned amenities in the complex include a wellness/fitness center, 50/60-yard turfed field house and a Mayo Clinic Health System sports medicine and imaging clinic.
The UW-Eau Claire Foundation first announced John and Carolyn Sonnentags' commitment of more than $10 million in land and gifts in 2014. Since then, they have made additional financial commitments to support the construction of the facility. Construction funding also is being sought from the city and other donors.
The project partners include the Blugold Real Estate Foundation, a subsidiary of the UW-Eau Claire Foundation, Mayo Clinic Health System, the city of Eau Claire, Visit Eau Claire and UW-Eau Claire.
Support the Sonnentag Complex Building Project
The UW-Eau Claire Foundation has committed to securing $10 million in additional philanthropy to support construction costs of this public-private partnership project. The incredible community asset created by this collaboration will be a public facility and surrounding riverfront redevlopment with a projected valued of nearly $100 million. Contact Kim Way for information on pledging support to this exciting project for the Chippewa Valley.