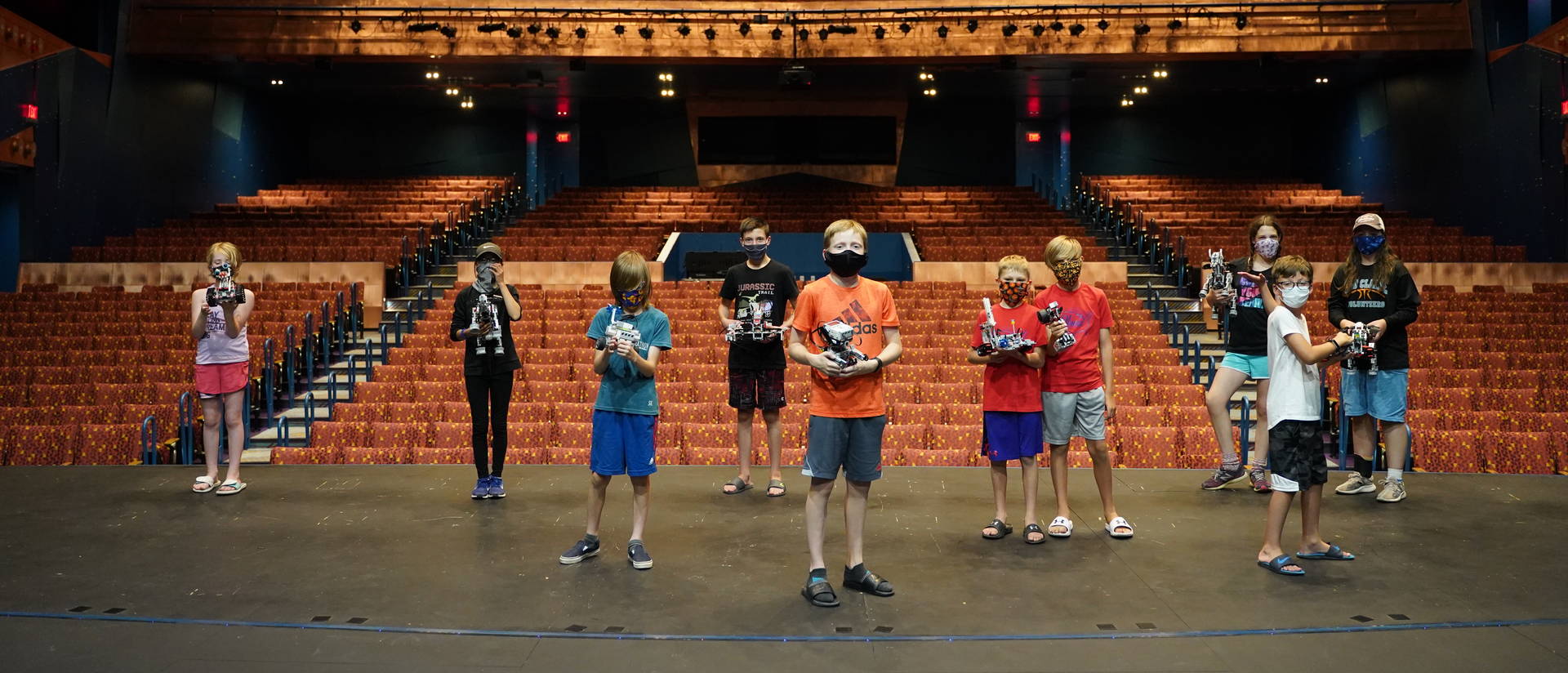 Forging ahead in promoting the arts
Since the fanfare and jubilation of a sunny Saturday grand opening in September 2018, Pablo Center at the Confluence continuously grew and stretched its wings as the artistic and cultural heartbeat of the Chippewa Valley — a role the $60 million facility was uniquely positioned to take on amid an equally energetic area music scene, a thriving arts community and a nationally recognized downtown revitalization.
Cue COVID-19, stage left.
With what must have felt like the economic and cultural burden of a whole community on its back, Pablo Center operators refused to quit after shuttering its doors and darkening its stages in March 2020.
Within weeks of canceling all events for what was then an unknown period, Pablo leadership and staff got to work generating ideas, programs, ways to interact with the community and keep the doors open.
How have they done it? Let's take a look.
Pablo Center Learning Pods: A distance learning alternative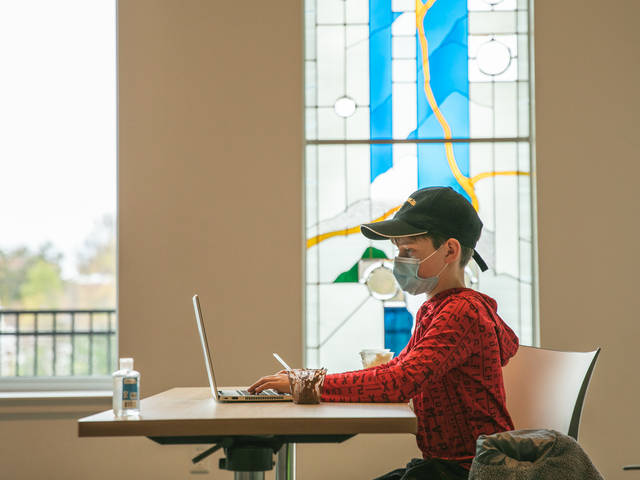 In the spring of 2020, as Wisconsin education systems closed their doors to in-person learning and adopted a virtual classroom model, Pablo Center staff considered how their empty spaces might serve as an option for socially distanced learning to comply with COVID-19 requirements. Empty rehearsal spaces were offered to both the University of Wisconsin-Eau Claire and the Eau Claire Area School District, but Pablo Center executive director Jason Jon Anderson says ultimately neither organization could make effective use of the space.
"The reality was that our space could not work for ECASD, and public transportation could not have accommodated getting university students to Pablo and back to campus in a timely manner," Anderson says. "But we had done all the homework, and nobody on a national level had yet figured out how to successfully do learning pods."
Mike Lee, Pablo Center outreach and education specialist, proposed a plan that could meet the needs of a good number of area families, children and employees.
Pablo Center Learning Pods launched in August 2020, serving 60 area students grades 4-10, 30 students in a "pod" on Mondays and Tuesdays, a different 30 students on Thursdays and Fridays, with an optional day on Wednesdays. Students have access to a Department of Public Instruction-certified instructor to assist with online learning through their home district, and time throughout each day to take part in visual arts, theater arts, culinary arts, STEM and other creative workshops guided by Pablo Center staff.
"Thanks to very generous corporate donations, 40% of students are on some type of scholarship for the program, ranging from 10% to 100%," Anderson says. "We do not ask for financial information, we simply ask families to let us know what they can pay of our cost, and we have been able to cover the rest to ensure that working families have an option."
Parent Amanda Twitchell could not be more grateful for the opportunity the learning pods created for her family, allowing her 5th-grade student to thrive during the pandemic.
"In a house with two working parents, the modified school schedules due to COVID presented challenges we weren't sure how we were going to navigate," Twitchell says. "Pablo Center saw a need in the community and immediately stepped in to help. The staff provided a safe environment for our daughter to receive the academic support, accountability and social interactions she needed. She was introduced to cooking, robotics, stop-motion photography, knitting and 3D printing. We are very thankful and appreciative of Pablo Center's community support for working parents and educational needs during this time."
"The staff provided a safe environment for our daughter to receive the academic support, accountability and social interactions she needed."
Amanda Twitchell, mother of area 5th grader
The learning pods will run through June 3, in alignment with the ECASD calendar.
"The program has been very well-received by families, students, instructors and businesses," Anderson says. "Corporations have let us know that the whole reason they've been able to succeed during this time is that their employees can drop off their students here. And for us, it's a way to use portions of the space in service to the community in a very forward-facing way."
Pablo Streams: Virtual concerts throughout the pandemic
Performing made safe at Pablo

The life force of Pablo Center, of course, remains the arts themselves. The shuttering of stages and galleries has certainly curtailed that force. However, thanks to a diverse toolbox of technology already available and the addition of a new streaming platform from WIN Technologies in Eau Claire, despite COVID-19 restrictions, the show has gone on.
Since July 2020, Pablo Center has been able to offer a safe way to enjoy the work of local artists via Pablo Streams, a steady flow of live and recorded performances from Pablo's illustrious Jamf and RCU theatre stages.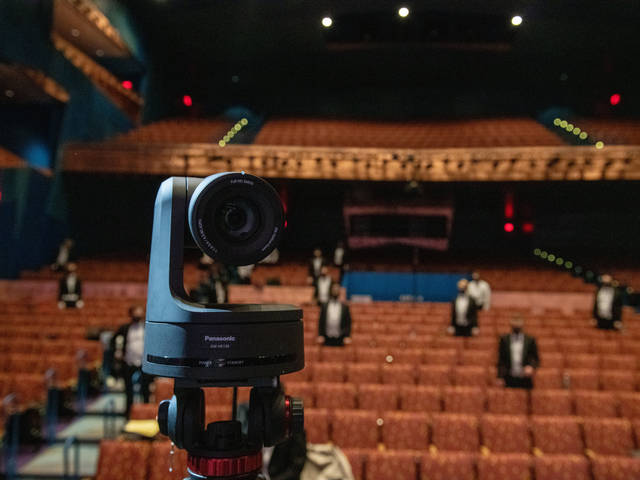 As Anderson explains, prior to COVID-19, Pablo had already been selected as a beta test site for Perigon, the new streaming technology platform created by WIN Technologies.
"Back in February 2020, Perigon Live was looking for anchor venues to pilot the use of their new streaming platform in presenting high-profile events to the rest of the world," he says. "We own nine high-definition hand-held cameras, so we had the infrastructure in place to say yes. Then COVID-19 hit, and we ramped up the timeline for different use."
Event production coordinator AJ Moen explains how he and artistic programming director Evan Middlesworth converted Pablo Center's concert lineup to a robust virtual calendar — no small feat, but a pivot worth making.
"We had quite a few hurdles to face going into it," Moen says. "Live production is significantly different than broadcast production — our eyes see things differently than cameras do; our ears hear differently when we're in a big open theater versus sitting at home in our living room with our TV speakers. We had an extremely robust camera system but hadn't used it much prior to the lockdowns. We had a lot to learn and had to learn quickly."
The team for Pablo Streams includes theatre arts graduate Zach Staads '19, handling video, and senior Taylor Marshall running all livestream audio. Due to the vast differences in the livestreamed sound Moen mentions, Marshall had to incorporate a whole new approach to doing his job, one that entailed operating a sound board from an acoustically isolated room outside of the performance space.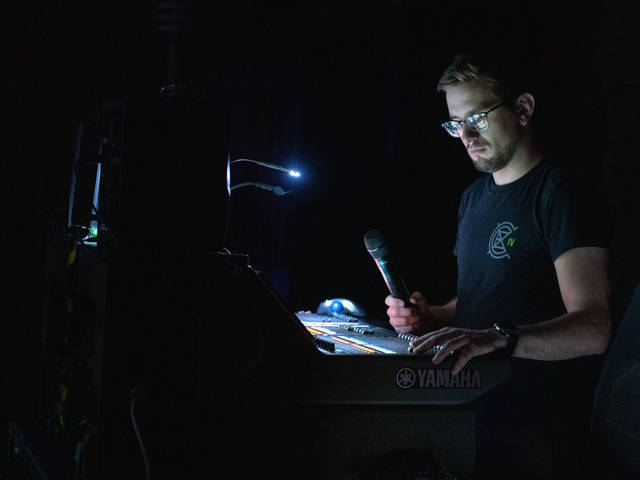 "When we moved to the streams, I had to completely remove myself from the performance space to ensure I was hearing exactly what listeners at home would be hearing," Marshall says. "I'm mixing the bands from down the hall, where I can see the live feed from the cameras onstage. It's been a great learning experience for me, and I've had the chance to really go back to the fundamentals as I learned how live sound differed from broadcast audio."
Marshall, a native of McFarland, will graduate in May with a bachelor's degree in information systems and certificates in sound engineering and fine arts administration. He will then join the full-time Pablo staff as a sound engineer.
Through multiple significant adjustments to standard performance lighting and camera work, and the state-of-the-art Perigon Live streaming platform, Pablo Center's team has been able to consistently offer local and national artists, along with UW-Eau Claire students and faculty, some unique performance opportunities during a time when they have been hard to find.
Chippewa Valley-based jazz musician Sue Orfield has enjoyed the chance to perform via Pablo Streams and was grateful for the care and safety measures taken by the staff and staging crews.
"I've done several streaming concerts from Pablo, and felt very safe and respected," Orfield says.
"While I dearly miss the audience and the connection and energy of a crowd at a live show, with the musical void caused by COVID-19, I was grateful to see my friends and play music with them. Incredibly grateful."
"While I dearly miss the audience and the connection and energy of a crowd at a live show, with the musical void caused by COVID-19, I was grateful to see my friends and play music with them. Incredibly grateful." Chippewa Valley jazz musician Sue Orfield
Also grateful for the quick-footed pandemic response of Pablo Center staff are UW-Eau Claire music and theatre arts faculty and students, for whom the added performance opportunities have been essential.
"The professional support of Pablo Center, along with the sophisticated recording setup has created numerous opportunities for faculty and staff," says Dr. Gretchen Peters, professor and chair of the music and theatre arts department.
"With the absence of live performances this past year, our use of Pablo Center has changed substantially, however, it has been just as crucial to the experiences of our faculty and students," she says. "Most of the music ensembles have had multiple opportunities to record performances at Pablo Center, a high-quality recording process which has offered new educational experiences to our students. Particularly valuable has been the First Fridays series, which is a diverse faculty recital series typically performed live in the Clearwater Room, which has been either live-streamed or prerecorded in Jamf Theatre."
One of those faculty performers has been Nicholas Phillips, professor of piano and coordinator of the Frist Fridays series.
"We miss live performances, but these live-streamed concerts have provided a safe and needed outlet to share our music with the Eau Claire community and beyond," Phillips says. "I'm very thankful to the Pablo staff for making it possible for us to share a lot of great music."
For their part in supplying the magic of Perigon Live technology to Pablo Streams, CEO of WIN Technologies Scott Hoffman was glad to partner with Pablo Center in finding at least a partial solution to the loss of revenue and artistic expression brought on by pandemic restrictions.
"We were saddened to see the impact the pandemic had on Pablo Center, as we all so appreciate such a wonderful venue here in Eau Claire," Hoffman says. "Offering Perigon and our WIN fiber network for this project was the right thing to do. We are very happy to see that it has helped Pablo Center during the pandemic, and we look forward to the Center reopening its doors to in-person audiences once again."
At this time, Pablo Center's events calendar is proceeding with a plan to reopen in fall 2021, but Anderson is confident that Pablo Streams will continue in some capacity well beyond the pandemic.
"This is an industrywide conversation right now," Anderson says. "Whether it will be offered in real time, whether it is recorded and available later at a reduced cost, whatever that looks like down the road, I see streaming as an integral component of live event presentation for the foreseeable future."