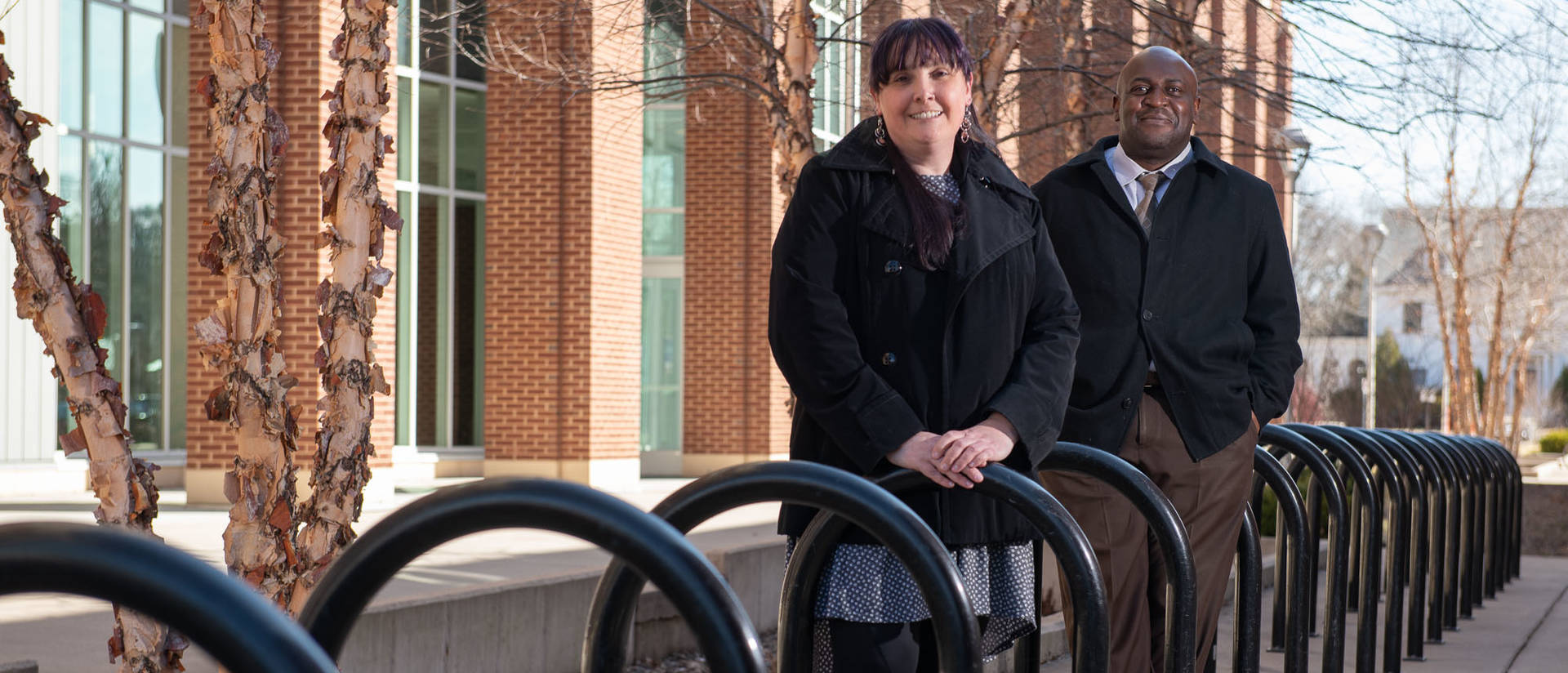 Goal is educating people about race, barriers for people of color
Photo caption: Dr. Heather Ann Moody, associate professor of American Indian studies, and Dr. Roderick Jones, assistant professor of special education and inclusive practices, are co-chairs of the Center for Racial and Restorative Justice's implementation team.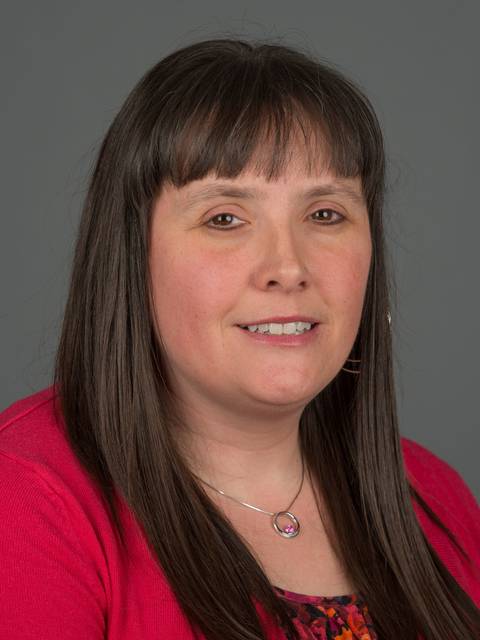 The Center for Racial and Restorative Justice established on the University of Wisconsin-Eau Claire campus in fall 2020 is an expansive work in progress aimed at educating students and the greater community about equity in all areas of society, according to faculty members who are leading the effort.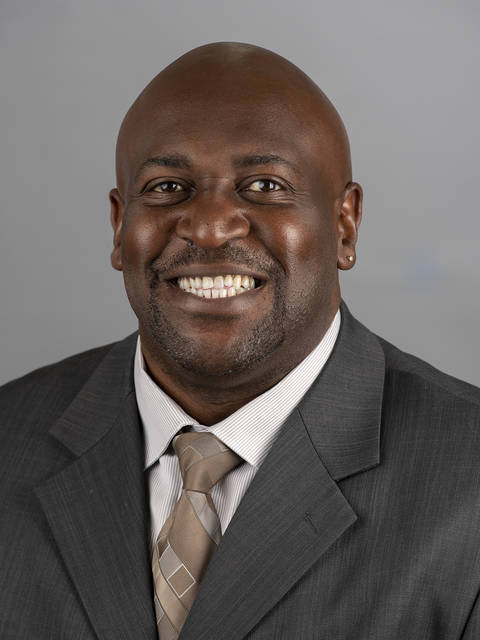 The center's goal is to educate people about the history of race in the U.S. and barriers to upward mobility for people of color in areas such as education, criminal justice, health care, commerce and housing. The idea for the center was proposed by Dr. Warren Anderson, UW-Eau Claire's former vice chancellor for equity, diversity and inclusion and student affairs, who now is the UW System's senior EDI officer.
Dr. Heather Ann Moody, associate professor of American Indian studies, and Dr. Roderick Jones, assistant professor of special education and inclusive practices, are co-chairs of the center's implementation team.
Moody and Jones took time this spring to answer questions about the future development of the center.
Can you explain your roles as the Center for Racial and Restorative Justice project moves forward?
Our primary role at this point involves facilitating the CRRJ Implementation Team to address its three key priorities, which include launching a program of social justice micro-grant funding for students, initiating a faculty fellows research program and developing a restorative justice program for our campus.
Why is the center so important to UW-Eau Claire and the greater Eau Claire community?
The center aims to become a national model for how research, pedagogy, engagement, outreach, restorative justice practices and critical-race theories can advance equity throughout society. The center will ensure UW-Eau Claire's graduates leave with high levels of cultural competence. A major goal of the center is to create leaders who will help change racialized narratives. The center will lead this critical phase of cultural and intercultural expansion, including a focus on Indigenous peoples due to the campus being located on their sacred and ancestral lands.
Beyond the campus, the center can provide community entities and organizations with more diverse perspectives, a solid foundation in best practices and appropriate cultural competency metrics. A long-term goal is to become a university where more students of color want to attend when they see our full-scale commitment to EDI. And, as they can become involved in the center's outreach in the community, they may choose to live and work here after graduation.
What programming will be developed at the center in coming months?
The most visible programming you are likely to see emerge from our body of work in the next few months will continue to be the "Racing Toward Justice" speaker series presentations. We are working diligently with committee members to locate and support dynamic speakers who represent the best this series has to offer. In addition to the RTJ presentations, we are working to offer micro-grants and scholarship funding to students and faculty committed to engaging in antiracist and social justice research, as well as offering workshops and other experiences related to the efficaciousness of restorative practices. Eventually, we would like to establish a symposium, where expert speakers' work and experiences will be illuminated for students, faculty, staff and community members to learn from.
What kind of reaction have you heard about establishment of the CRRJ?
Comments we have heard indicate there is a need for the CRRJ and that its work can be both transformative toward reducing racial disharmony and advantageous toward helping students, faculty, staff and community members understand how to promote healing when racialized incivilities occur. Moreover, most comments we have heard about the CRRJ have been Q&A related, for which answers are continually being meted out. For example, one question we have heard often is: Where will the CRRJ be located or housed? In essence, people want to know where they can go and experience the center's offerings in person.
When should people expect to see a physical home for the center?
At this point we do not have a resolute answer, but it remains an important part of the broader conversation. There are multiple leaders and individuals who must help us reach this inevitable decision. Overall, a physical home for the center is a vital component to its success and for our campus and community, especially if we are to become national leaders in EDI.
What else should people know about the project?
Stay tuned! We believe the CRRJ has potential to be a holistic, communal game-changer and research beacon for our students, faculty, staff and our community. Additionally, from this project we hope individuals will learn how to become increasingly self-aware and self-reflexive when discussing and responding to racial injustices. We hope this project will create more effusive and humane hearts on the basis of embracing each other's differences as strengths rather than vilifying those who might otherwise be perceived as inhumanely foreign or othered.
---
Support for the Center for Racial and Restorative Justice
UW-Eau Claire alumni and donors have been generous in their support for the establishment of the Center for Racial and Restorative Justice, contributing more than $100,000 to the Foundation in startup funds.
Donors include the Pablo Foundation, the philanthropic arm of Eau Claire-based Pablo Group, to help underwrite the cost of the first micro-grants for student programs and initiatives to advance racial justice, and scholarships for research. Additional donors include Xcel Energy, Northwestern Bank and Betsy Kell, a UW-Eau Claire graduate and trustee emerita of the Foundation board. The work of this center will need ongoing support in order to reach our commonly held goals for equity. In addition, recently-developed familiarity with virtual programming means that Blugolds can join UW-Eau Claire for many featured speakers and other learning opportunities from wherever they are.
The initial support secured by the UW-Eau Claire Foundation from these sponsors was crucial in launching the only entity of its kind in the state. It takes a village to improve our society, and at UW-Eau Claire we know that our village extends far beyond the edges of our campuses. We invite your support to help the Center for Racial and Restorative Justice equip current and future Blugolds to be culturally competent, and to highlight UW-Eau Claire as a national model in the adoption of racial and restorative justice practices and research.
Learn more about the founding of the Center for Racial and Restorative Justice