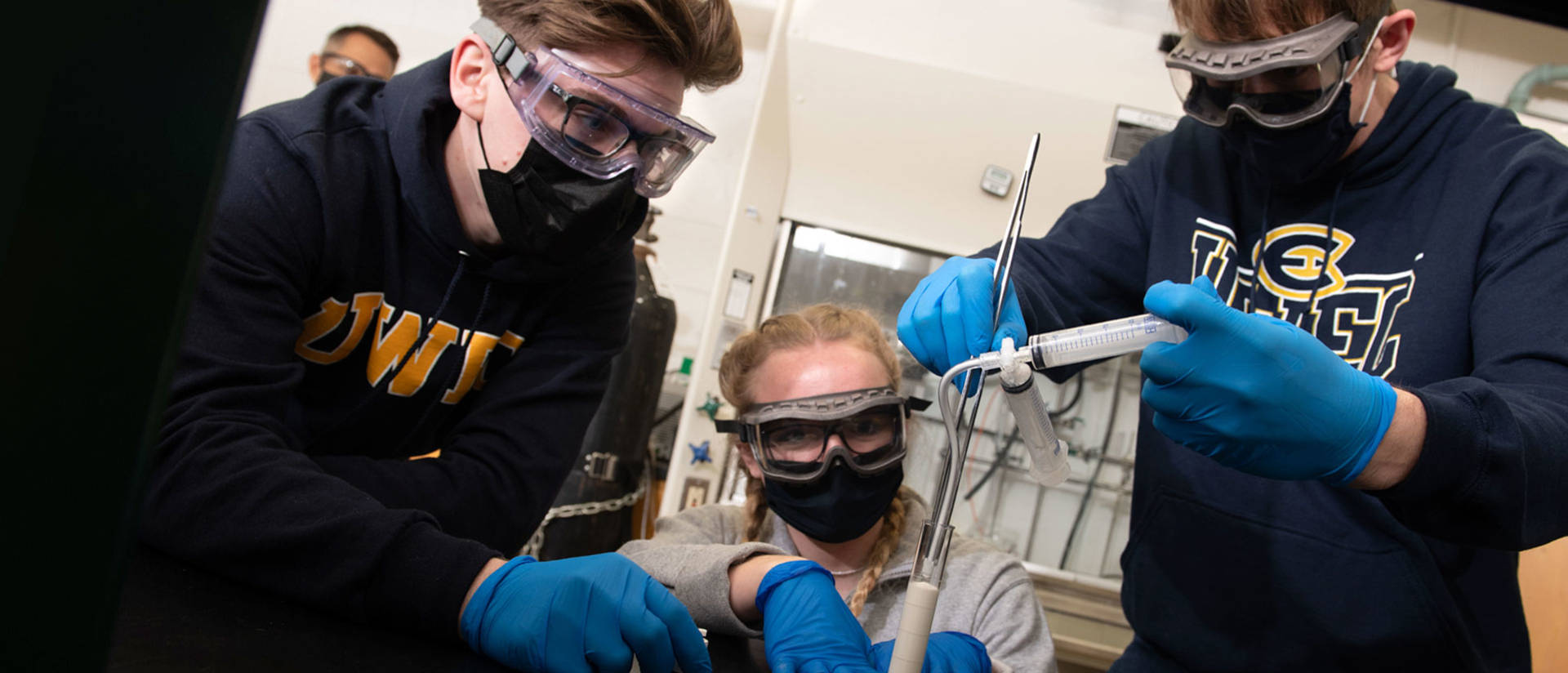 Committed to health care discoveries
Top image caption: Research students, from left, Cuyler Monahan, Kira Haus, and Marshall Apps work under the direction of Dr. Elizabeth Glogowski in the testing of the stability of injectable foam for potential use in protecting healthy tissue during ablation treatment of cancerous tumors.
As spring semester draws to a close, so too does the first full year of study for the inaugural cohort of Blugold Biomedical Innovator Scholars, an initiative that was designed to help launch the next generation of medical researchers and health care providers to come out of UW-Eau Claire.
The Biomedical Innovators program, a partnership between Mayo Clinic Health System and UW-Eau Claire, selects up to 50 first-year students with interest in health care to participate in special opportunities to interact with faculty, apply for competitive research experiences, network with Mayo medical professionals, and work with experts and peer advisors in UW-Eau Claire's Health Careers Center throughout their college experience. From this pool of innovators, 10 students have been selected as our Innovator Scholars, making them eligible to receive $40,000 each in scholarships and summer work stipends over four years.
Dr. Douglas Matthews, professor of psychology, has been mentoring student researchers for years, and this fall took on three Biomedical Innovator Scholars in his neuroscience lab, all able to begin high-level research on their first day in college.
"These are high-achieving students who come directly into research labs," Matthews says. "It's great because they have been working on this research with me from their first day here.
"To be an integral player in a project and working on the studies is something I've not seen occur at any other university, small private school or a large research school, Ivy League or Big Ten."
Dr. Michael Carney, professor of chemistry and associate vice chancellor for academic affairs, is excited about the unique experiences these scholars will encounter, and equally pleased with the impact of projects on measurable patient outcomes.
"Our Biomedical Innovator Scholars participate in projects that have a direct impact on patient outcomes and patient well-being," Carney says. "In fact, impact on patient outcomes is a fundamental aspect of our project vetting process. Sometimes that impact is 'down the road' simply because some projects have a longer timeline, but in other cases the impact is much closer on the horizon. In all cases, working with a Mayo Clinic collaborator keeps the connection to improving patient lives at the forefront and helps show students how fundamental research at the lab bench can be translated to the bedside."
The Biomedical Innovator Research Scholarships available at UW-Eau Claire provide an undergraduate research opportunity unique to Blugolds. You can help us expand these opportunities and recruit high-achieving STEM students to learn at UW-Eau Claire with a gift to the Biomedical Innovator Scholarship. Contact Julia Diggins, director of major gifts, to explore the possibilities of your gift making an extraordinary impact in advancing both student experiences and UW-Eau Claire's reputation as a leader in the health sciences.
Meet our 2020-21 Blugold Biomedical Innovator Scholars
Marshall Apps, biochemistry/molecular biology, Green Bay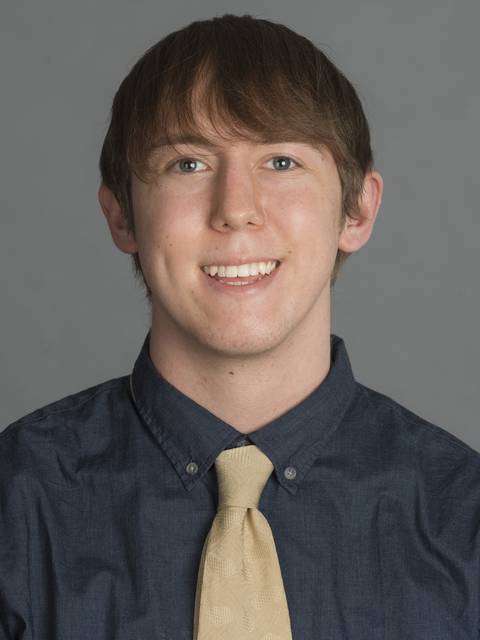 Taking part in this program has already turned out to be an amazing experience that has taught me so much about the research and scientific process in general. My career goal is to become a physician, and this program provides rare undergraduate Mayo Clinic access and the chance to make valuable connections to hospital physicians and research staff.
I am part of Dr. Elizabeth Glogowski's research team, investigating injectable therapeutic foam additives. The goal of our research is to determine how effective foams are in separating and protecting healthy tissues during ablation treatment of tumors. One of my specific tasks is to create a model showing how foam reacts in contact with human tissue.
Outside of my STEM studies and research, a favorite class this spring has been Spanish 302: "Advanced Conversation and Composition." I really appreciate the instructor's teaching style and am enjoying all the conversation and increasing my ability to communicate in Spanish.
Abbey Brakke, neuroscience, Brooklyn Park, Minnesota
I was attracted to the program by the unique opportunity to begin collaborative research as a first-year student, which will enhance my pre-med degree plan. A bonus that I've discovered so far is meeting so many great people, the other scholars, faculty and Mayo Clinic collaborators.
My current project is titled "Surface-Enhanced Raman Spectroscopy of Human Saliva as a Non-invasive Tool for Cancer Diagnostics," and my faculty mentor is Dr. Sanchita Hati in chemistry. The overall goal of this project is to develop a diagnosis and screening process for different types of cancer through saliva samples. We will be using surface-enhanced Raman spectroscopy (SERS) to detect cancer-specific biomarkers in saliva, through a process of combining saliva samples with gold or silver nanoparticles to detect these biomarkers.
When I'm not studying in one of my favorite nooks of Davies Center, I might be taking a study break with my pet turtle, Tim.
Gillian Davis, pre-med biology, Spanish minor, Ellsworth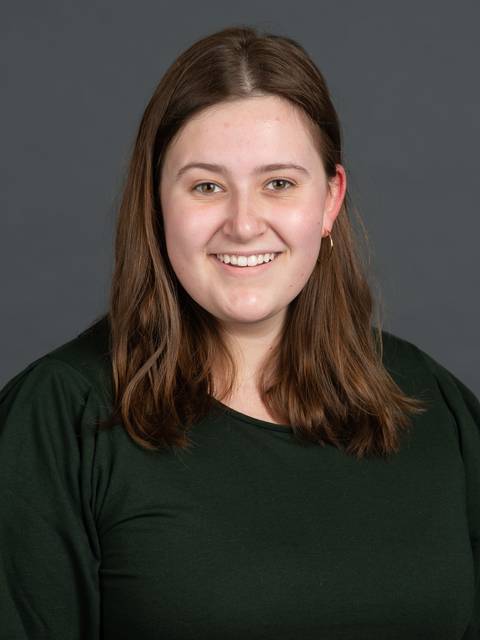 The best part of the program has been all the benefits that come with this level of research. As a first-year student, I am actually doing the things I learn about in lectures, which is crazy! Not only are my classes helping me with understanding my research project, but my research project is helping me understand my classes.
I work with Dr. Bradley Carter in the biology department. Our lab studies zebrafish to investigate the effects of chemicals associated with human disorders on brain development. My role is examining the impact of specific chemicals associated with autism spectrum disorder (ASD) on genes that mark different types of neurons. We hope these experiments will further inform our understanding of ASD biology and environmental influences on ASD.
One class that has had a big impact on me this year has been course titled "Combatting Disinformation," which looks at how people process and categorize different types of information. It has given me useful insight into the scale of effects disinformation has in modern society.
Maya Frodl, biology, Racine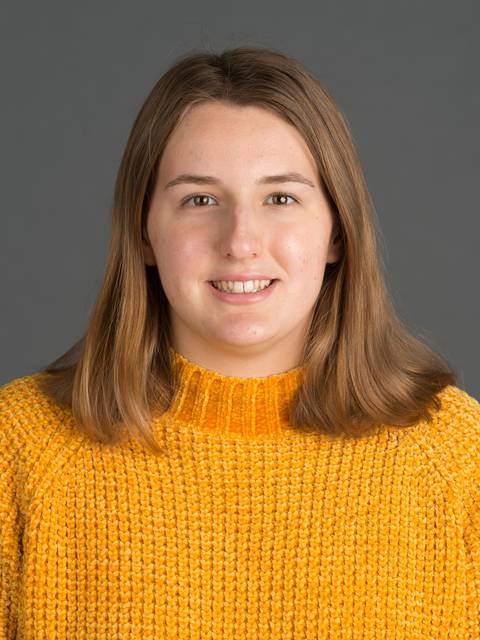 I was attracted to this program for a variety of reasons — gaining medical research experience from day one of my undergraduate career, receiving one-on-one mentorship from Mayo Clinic physicians and having access to medical lecture series would greatly benefit my pre-med path.
My research project under the mentorship of Dr. Douglas Dunham, is creating 3D-printed hearts to be used in the pre-surgical planning process of two types of minimally invasive heart surgeries, aortic valve replacement and mitral repair. In this project, another BioMed Scholar and I turn 2D medical images (such as CT scans and MRIs) of patients' hearts into printable 3D models using a computer. Cardiac surgeons then provide us feedback on our models.
One fun fact about me is that I'm on the Blugold swim team, and have been a competitive swimmer for 10 years, and between the lab and the pool you can most often find me studying in my favorite corner of the library that faces the creek.
Mikayla Hady, biochemistry/molecular biology, Springfield, Illinois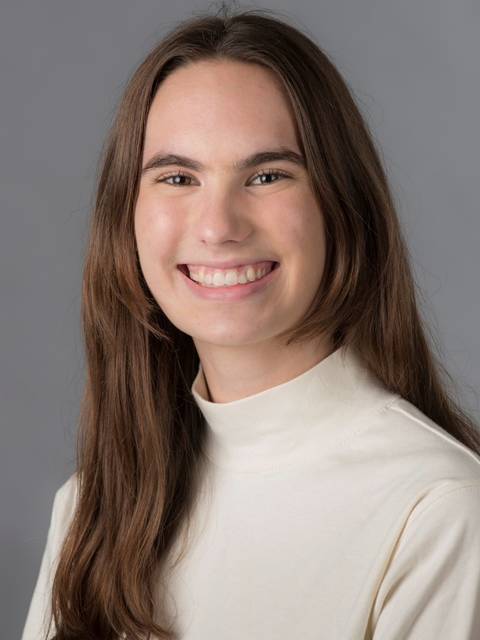 The nationally ranked research drew me to UW-Eau Claire in the first place, and the opportunity to start my research experience as soon as I stepped foot on campus is just incredible. The connections with Mayo Clinic researchers and financial scholarship provided by this program were too amazing not to jump on.
The project I am researching is in the neuroscience lab of Dr. Douglas Matthews, examining the effects of binge alcohol consumption on aged animals. We primarily use rat models and a water maze to conduct studies on the effects of alcohol on brain functions, especially memory.
One of my favorite classes has been Honors 313: "Understanding Chronic Disease: Bridging the Gap Between Engineering and Medicine." I hope to become an M.D.-Ph.D., pursuing both a medical degree and a Ph.D. in biochemistry or biomedical engineering, and this class has helped me sharpen my skills in medicine and areas of research.
Kira Haus, biomedical engineering, Elk River, Minnesota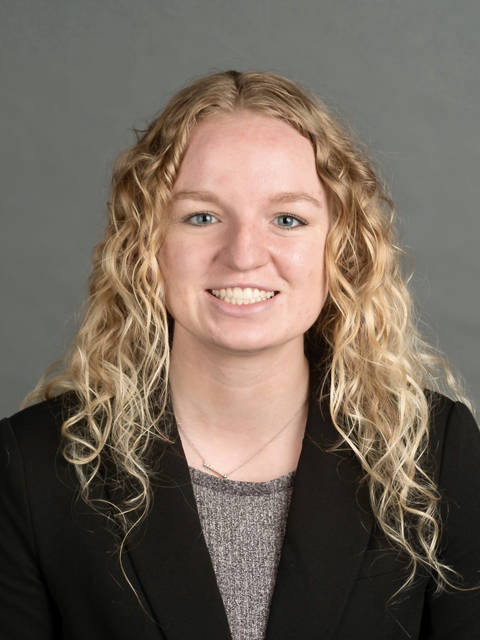 I had no idea opportunities like this were available for individuals my age. I knew undergraduate research was excellent at UW-Eau Claire, but I never imagined that I would be able to start doing projects like these when I arrived as a freshman. When I received the information about the program, I knew I had to apply to be a part of this amazing opportunity.
Working with Dr. Elizabeth Glogowski for my project has been a tremendous experience. The title of our project is "Investigating Injectable Therapeutic Foam Additives." We are producing an injectable foam to protect healthy tissue during cancer removal procedures. The foam's purpose is to shelter healthy tissue from damage, which can result from freezing or heating adjacent cancerous tissue. Currently, I am developing a gel that will be used to assess the insulative properties of the foam.
Beyond research, a highlight of this first year has been a favorite class I took through the University Honors program, "Critical Issues in Global Health." I learned so much about disparities in health services across countries and cultures. My instructors for the course were highly knowledgeable about the topic, especially Dr. Mohammad Alasagheirin, who has personal experience working as a health professional in refugee camps in the Middle East.
My original plan has been to become a physician assistant, although I am now also considering graduate school in biomedical engineering after graduation. That and checking off a shark-lover's bucket-list item — cage diving!
Quinn Petersilka, communication sciences and disorders, Eau Claire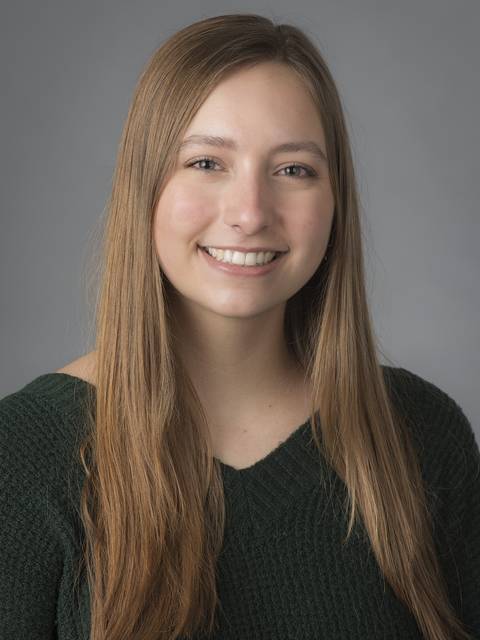 I was attracted to this program because of the amazing opportunities it provided. I never thought I would be able to get into a research lab my freshman year of college, much less be an integral part of a research team. From connections with UW-Claire faculty members to mentoring from Mayo Clinic researchers, I knew I would gain a lot from being a part of this program. I already have!
My career goal is to become a speech and language pathologist, and the class I have most enjoyed so far is my American Sign Language course. I've learned so much already about deaf culture, and there is much more to learn.
The best part of being in this program is the connections I have made. I have met other students through this research and have been able to form connections with faculty, like my research mentor Dr. Douglas Matthews. In his lab, our student team researches the effect alcohol has on aged rats and the long-term effect alcohol has when consumed regularly.
Gillian Rossman, neuroscience major, Valparaiso, Indiana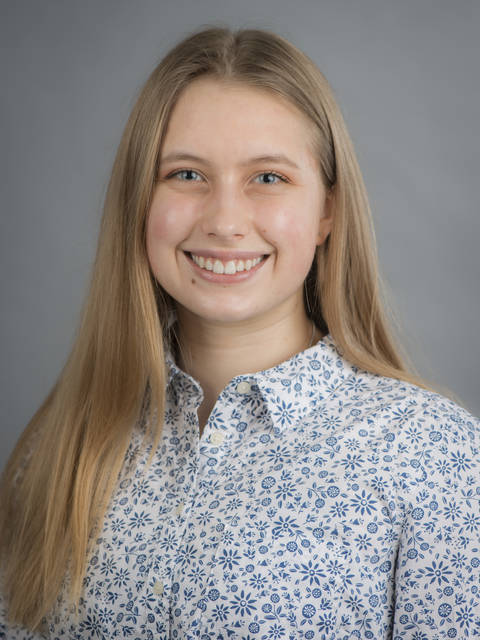 Having the chance as a freshman to conduct collaborative research in Dr. Douglas Matthews' alcohol studies lab has already got me thinking about a possible change in career plans. I'd always planned to be an M.D., but since beginning this program, I'm now looking into the option of an M.D.-Ph.D., with continued career focus on research.
In our project, we use animal models to study the behavioral and biochemical effects of alcohol consumption within the brain. Currently, we are investigating age and the effects of alcohol consumption, comparing young and aged animals. My experience thus far has been very rewarding, from analyzing past research to conducting labs and assays to animal care.
In departure from STEM classes and research, I enjoy rock climbing which I discovered through UWEC Recreation, and my studio art class in the Honors Program is an enjoyable change of pace and opportunity for creativity.
Kati Sadowska, chemistry, Marshfield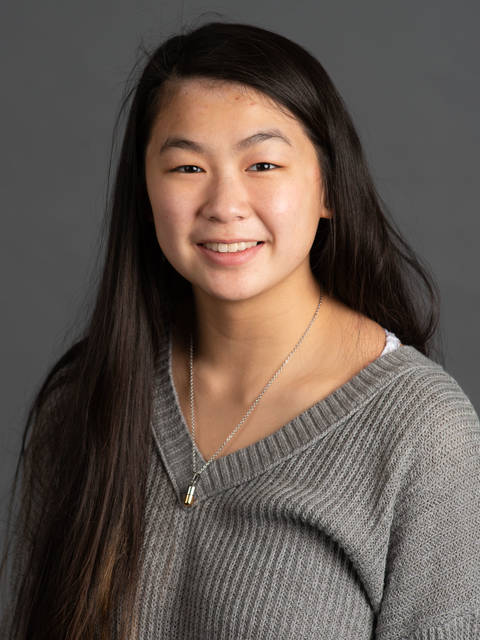 Becoming an Innovator Scholar was a unique opportunity, being able to connect with faculty and Mayo Clinic researchers while doing undergraduate research. I was particularly interested in Dr. Jamie Lyman Gingerich's research, as it researched RNA splicing and its effects on the patient's DNA. We work directly with Prevention Genetics in Marshfield to help physicians with patients who display symptoms of unidentified genetic disorders. I find the topic interesting, plus it is connected to a facility in my hometown. The work has been quite rewarding, as is the chance to forge mentoring ties with faculty and clinic researchers.
I have not pinned down a definite career path yet, as I am still exploring. I'm really enjoying my Calculus II course —I t's fascinating and fun! I would say I'm leaning toward the field of genetics research in my future.
A couple fun facts about me are that I was adopted from China at a very young age, and my favorite place on campus to study is the second floor of Davies in the late afternoon. It's less crowded and noisy at that time, and the lighting is really nice.
Saige Tichy, biochemistry/molecular biology, Stratford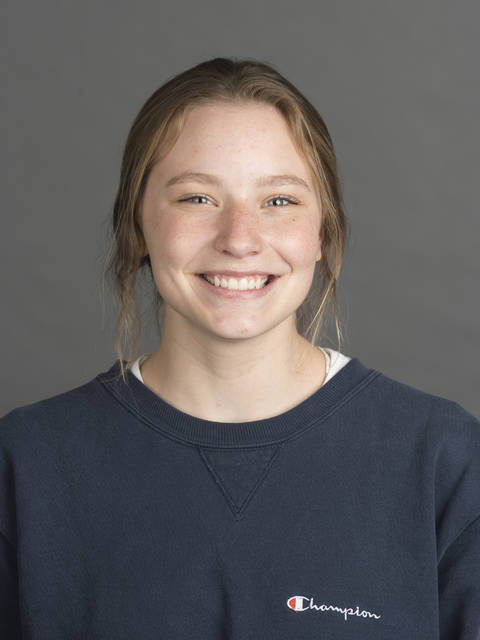 I applied to this program because the idea of creating a network within the science departments at UW-Eau Claire, as well as a network within Mayo Clinic so early on in my undergraduate experience was an opportunity I could not pass up.
I am currently working with Dr. Douglas Dunham and fellow Innovator Scholar Maya Frodl on a project titled "3D Printing to Enhance Patient Outcome for Mini-Thoracotomy Aortic Valve Replacement and Mini-Mitral Repairs." Maya and I can convert a medical scan of a heart into an actual 3D physical model, a process we learned after plenty of trial and error during first semester and winter break. These personalized models aid cardiothoracic surgeons in planning their surgical approach to complicated operations.
I was prepared for pandemic learning at a young age because as a middle school student, I did all my school online so I could train for over 25 hours per week for gymnastics.
Top image caption: Research students, from left, Cuyler Monahan, Kira Haus, and Marshall Apps work under the direction of Dr. Elizabeth Glogowski in the testing of the stability of injectable foam for potential use in protecting healthy tissue during ablation treatment of cancerous tumors.