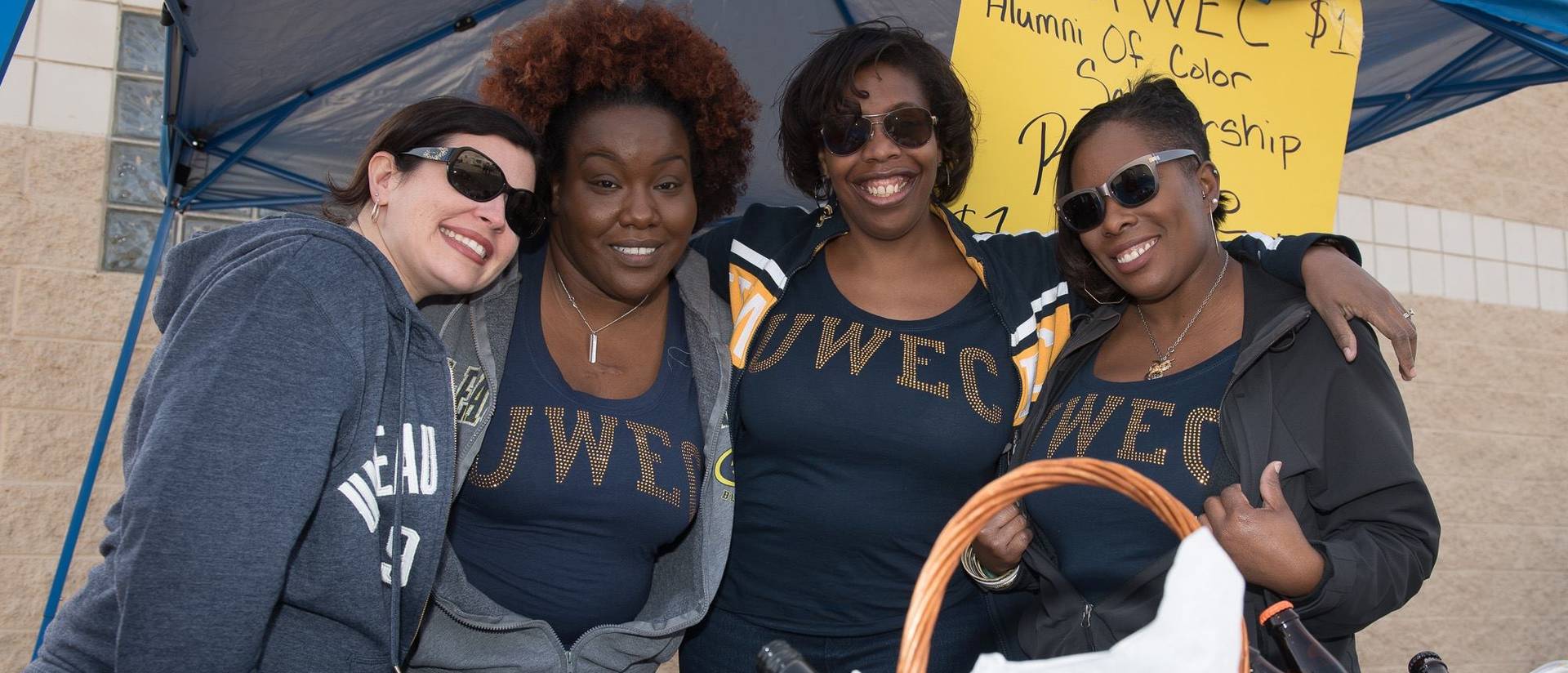 Organization pays it forward by mentoring UW-Eau Claire students
Photo caption: Members of the Alumni of Color Network operate a raffle at the 2015 Homecoming game to raise money for the organization's Social Justice and Inclusion Scholarship. From left are Ambar Hanson '02, Michelle Bellinger '02, Angela Pittman Taylor '00 and Angie Hambrick '02.
A reunion of University of Wisconsin-Eau Claire alumni of color was organized in 2009 as a one-time social gathering for Blugolds to return to campus to reconnect with friends and share stories of their college days.
It became much more than a picnic in Owen Park on a fall day when the late Jim Vance, director of UW-Eau Claire's American Ethnic Coordinating Office (now the Office of Multicultural Affairs) from 1988-2002, joined the gathering to enjoy the camaraderie and listen to career and life updates from alumni.
Vance was in failing health, recalls 2000 graduate Angela Pittman Taylor, but he remained a "larger than life advocate for students of color."
"His spirits were good and he beamed as we each shared about what we were up to now," Pittman Taylor remembers. "When we finished sharing our updates, he told us that he considered this gathering a culmination of his vision for AECO and UWEC. He said he dreamed of seeing his students achieve success, return to campus, get organized and pay it forward. That's when it became abundantly clear that we had a higher calling."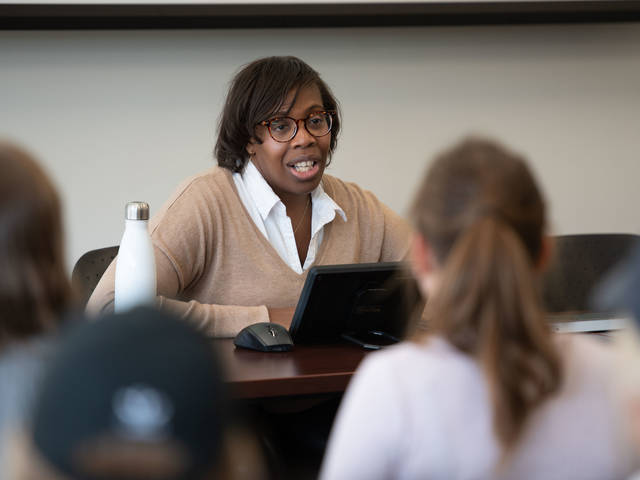 More than a decade later, Pittman Taylor and others who were in attendance that day are paying it forward to current Blugold undergraduates through their work with the Alumni of Color Network (AOCN). The group has mentored students for several years and officially launched AOCN through the UW-Eau Claire Foundation in 2019 to advance UW-Eau Claire's equity, diversity and inclusion goals and to make alumni available as resources for current students.
Pittman Taylor, who is the AOCN board chair, says she looks back fondly on her experiences at UW-Eau Claire, where she received a bachelor's degree in public relations in 2000. She returns to campus to help today's students of color because of the "cherished memories of my time there."
"While attending a predominantly white institution in a predominantly white city is challenging on varying levels for students of color, it is possible to form cherished memories when there is a feeling of belonging," says Pittman Taylor, who works in Milwaukee as a public relations director at Baird, a global investment bank. "When I was a student, AECO did a phenomenal job of supporting students of color, just like OMA and others today. The goal of the network is to supplement that existing support in meaningful ways through mentoring, networking and fundraising efforts."
"The goal of the network is to supplement that existing support in meaningful ways through mentoring, networking and fundraising efforts," says Pittman Taylor.
AOCN board member Randy Perine recalls being recruited by Vance to attend the university, but in 1994 he found moving to Eau Claire from what he says was a segregated city of Milwaukee to be a difficult transition.
"I left a city where everyone looked like me and came to a city where no one looked like me," says Perine, who now lives in Eau Claire and works as a therapeutic specialist for Sunovion Pharmaceuticals. "I 'stuck out' everywhere I went. Imagine an environment where you're the first African American that people have ever seen, other than on television. The burden of continuously breaking down barriers and stereotypes was often frustrating, but necessary."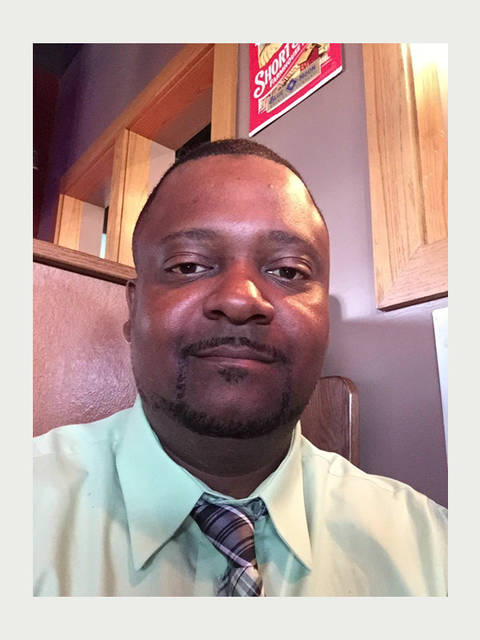 Still, Perine enjoyed his collegiate experiences, including daily climbs up "the hill" and winter treks across the frigid footbridge. Perine, who earned a bachelor of business degree in marketing in 1999, still enjoys friendships he made in college with students and professors.
Perine enjoys sharing his experiences with students and hearing what Blugolds aspire to do when they leave UW-Eau Claire.
Alumna Ambar Hanson grew up in the Dominican Republic and moved to Minnesota when she was 17. After two years at a community college, Hanson transferred to UW-Eau Claire, where she earned her bachelor's degree in Spanish and Latin American studies in 2002. She later received her master's degree in public administration from the University of Colorado Denver.
Hanson, who today is a community relations officer at the Mortenson Family Foundation in Minneapolis, forged strong, lasting friendships through participation in the Black and Latino Student Association at UW-Eau Claire, she says. OMA helped support her during her undergraduate education so her association with AOCN is a way to stay connected with alumni and give back to the university.
"I hope to see more alumni of color join us in paying it forward, and I am excited for the equity journey the university is undertaking," says Hanson, who is an AOCN board vice chair. "It is important that our experience as students transcends beyond the Office of Multicultural Affairs and into every building on campus. Had it not been for the OMA, that sense of belonging would have been more difficult to find at UWEC."
UW-Eau Claire senior Natalina Tekie, an integrated strategic communications-public relations major with a minor in sociology, is a student mentor and Foundation intern who works to create relationships and mentorships between Blugolds and AOCN professionals.
Hopefully, Tekie says, the students will one day become mentors themselves for the next group of scholars.
"Students can learn the path and journey that their mentors took to get to where they are at now," says Tekie, who is from Apple Valley, Minnesota. "Everyone's path/journey is different but an insight of what theirs was like can guide the student in a more comfortable path that they are confident in. It will also show them what qualities a mentor has and what it is like to be a mentor so they can continue that cycle when they get older. Students can also get a sense of what their future jobs will look like, so they have an idea of what to expect."
Scholarly partnership
AOCN provides mentorship assistance with workshops and speaking opportunities in partnership with the Chancellor's Diversity Leaders Scholarship program, which is in its third year.
The program provides an annual scholarship of $2,500, renewable for four years, to high-achieving students from underrepresented populations. These scholarships are made possible by generous donations to the UW-Eau Claire Foundation by Blugolds who are investing in the university's strategic goal of increasing recruitment and retention of students from these underrepresented groups.
The sophomore cohort for the program has seven Blugolds and the first-year cohort has four students. Additional donations through the Foundation have provided Chancellor's Diversity Leaders scholarships for ten incoming freshmen in 2021-22.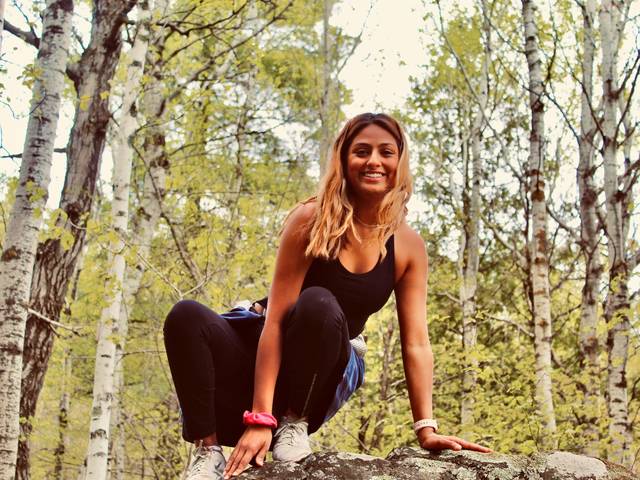 Thanks to a Chancellor's Diversity Leaders scholarship, sophomore nursing student Mia Johnson is able to worry less about tuition costs and take more time to enjoy a little free time between classes.
The scholarship was a godsend for Johnson, who grew up in Kenosha and Gurnee, Illinois. Johnson says she had "aged out" of the foster care system and was left to transition to college on her own.
"Before receiving this renewable scholarship, I was working three jobs as a freshman," Johnson says. "This scholarship made it possible for me to put a bigger focus into school … and being a full-time nursing student."
"I think this scholarship would be valuable to any UWEC student, but more for students who need a system of support. Not all college students have a support system or anyone looking out for them. I'm very lucky this scholarship has given me so much freedom to be a student."
Sophomore Josiah Ziebell, a math education major from Mauston, also is a diversity leaders scholar who wants to connect with other students and alumni of color to learn about different cultures to make him a better teacher one day.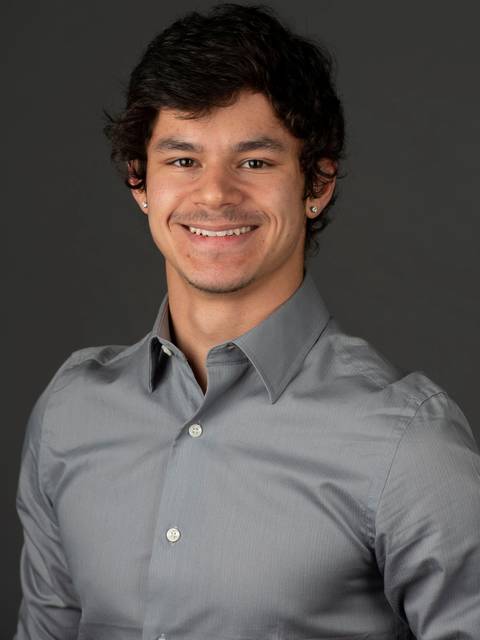 "I think this is a really important program for providing opportunity to underprivileged minorities and also helping connect people with one another through culture and our identities," Ziebell says. "Identity is important because it's what makes everyone unique. It's important to understand identity so that we can understand where everyone comes from and maybe the struggles that come along with their upbringing."
Future AOCN's future goals
AOCN members are looking forward to returning to mentor Blugolds in person as the pandemic becomes more under control. Perine believes that during COVID-19, people learned to adapt to a changing environment and he expects the future of AOCN will be a "global effort."
"Graduates move across the globe to begin their careers," Perine says. "Maintaining networks during the transition from student life to career-pursuit is imperative for growth. We must continue to find creative and impactful methods for communication, retention and community involvement."
Pittman Taylor sees AOCN's efforts expanding as more students of color graduate.
"Over time the goal is to continue to deepen our mentoring, networking and fundraising activities to help drive progress toward the university's EDI goals," Pittman Taylor says. "We envision mentoring more students, connecting more alumni to each other for peer mentoring, career building and yes, socializing, as well as raising more funds as appropriate to support high-impact practices for diverse students."
You can support and ensure diversity at UW-Eau Claire
Whether you are an alumnus of color yourself or you understand the importance of everyone playing a vital role in bringing equity to our institutions, your financial gift can and will make a huge difference for a Blugold student and assist the university in achieving its guidepost goal of increasing enrollment of students of color to 20%.
To learn more about funding a Chancellor's Diversity Scholarship, contact Kimera Way at waykk@uwec.edu.
To learn more or join the Alumni of Color Network, email AlumniOfColor@uwec.edu.
Donate now to the Alumni of Color Social Justice and Inclusion Award