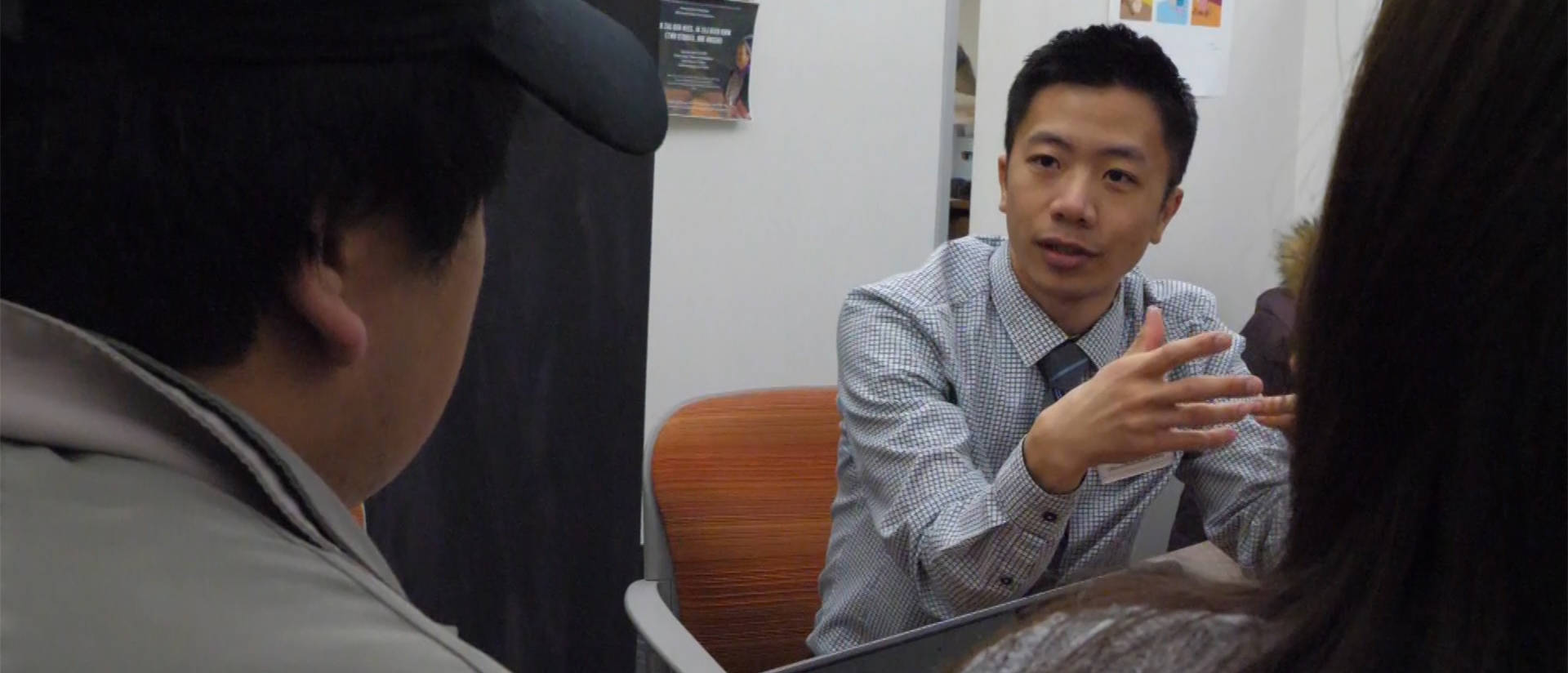 Blugolds help to lead community EDI project
The University of Wisconsin-Eau Claire is actively engaged in a new community-led effort to address racism and other issues relating to equity, diversity and inclusion in the Chippewa Valley.
"Our students, faculty and staff are active and engaged in the greater Eau Claire community, so we welcome the opportunity to join a collaborative project that will help make the city a more inclusive place for everyone," Chancellor James Schmidt says. "We are eager to join others in doing the hard work necessary to make lasting change in the Chippewa Valley."
Dang Yang, director of UW-Eau Claire's Office of Multicultural Affairs, is one of the four co-chairs of the recently launched Chippewa Valley Transformation Project. Several other UW-Eau Claire students, faculty and staff members also are involved in the local antiracism and inclusion effort.
The new project will encourage conversations and actions around EDI-related issues that will help Eau Claire take real, meaningful and lasting steps toward creating a community where everyone can feel welcome, safe and included, Yang says.
The antiracism and inclusion initiative will build on existing EDI-related efforts at UW-Eau Claire and in the city of Eau Claire, while also offering support to people and groups on and off campus who are newly involved in social justice efforts, Yang says.
"There already are a lot of really good things being done on campus and in the community to address racism and inclusion," Yang says. "CVTP won't try to replace or get in the way of the great work already underway. We want to complement and support those efforts to help them continue and grow.
"There also are people who want to be involved but who are not sure what to do or how to have a positive impact, so they are looking for guidance. The CVTP can be a bridge that connects people and organizations so we all can learn from each other."
Building an inclusive community
When George Floyd was killed while in police custody nearly a year ago, Blugolds and other Eau Claire-area community members joined millions of people around the world in protests and marches calling for an end to police brutality and systemic racism.
The CVTP concept grew from those events, Yang says, noting that veteran activists and new social justice allies alike expressed interest in doing the work necessary to move the community forward.
The idea for a communitywide coalition was first proposed as a city of Eau Claire antiracism task force, but community leaders quickly realized it was better to build the initiative outside of local government. So, CVTP was established under the umbrella of Uniting Bridges, an existing antiracism coalition that advocates for underrepresented people in the Chippewa Valley.
While antiracism is part of CVTP's mission, its work will be even broader since diversity goes well beyond race, Yang says.
"A lot of groups need to be included in these conversations because racism isn't the only issue that needs to be addressed in the Chippewa Valley," Yang says. "Homophobia and all the -isms have been here for a very long time. The pandemic has exacerbated and increased their visibility here and elsewhere, making it a bigger part of the regional and national narrative. So, this is an opportune time to empower people to take action that goes even beyond race."
"A lot of groups need to be included in these conversations because racism isn't the only issue that needs to be addressed in the Chippewa Valley. Homophobia and all the -isms have been here for a very long time. The pandemic has exacerbated and increased their visibility here and elsewhere," Yang says.
In addition to Yang, CVTP co-chairs are Edmund Manydeeds, a civil trial lawyer, the first-ever Native American UW System Board of Regents president and a member of the Standing Rock Sioux Tribe; former Eau Claire City Council member Berlye Middleton; and Mai Vue Xiong, executive director of the Pablo Foundation.
The CVTP co-chairs — all of whom are active in other antiracist efforts in Eau Claire — first came together in late fall to identify project goals.
They have since established the CVTP Advisory Committee, which includes people from UW-Eau Claire, local government bodies and nonprofits. The advisory team will share feedback and information with soon-to-be organized committees that will work within specific sectors where embedded systems of oppression disproportionately impact underserved community members.
Dr. Selika Ducksworth-Lawton, a professor of history and an EDI leader on campus and in the community, appreciates that the leadership team is taking the time it needs to gather critical information before taking any action. Making real change takes time, she says.
"This is not a one and done," says Duckworth-Lawton, a member of the CVTP Advisory Committee. "Our work is going to be ongoing and it's going to be transformative, so it shouldn't be rushed."
Through CVTP, people will know where to bring their ideas or questions, and be confident that what they've shared will be considered and potentially acted on, she says. Those actions could mean anything from bringing together people and groups that have shared interests to negoatiating new policies with local governments, she says.
In the first year of the project, efforts will include educating community members about EDI-related topics, Ducksworth-Lawton says. That could include educating people about microaggressions or dispelling them of myths about the reasons people live in poverty, she says.
"We need to offset the propaganda that people get from social media and other places," Ducksworth-Lawton says. "We need to teach people how how to have difficult conversations."
CVTP leaders also want to ensure that those difficult conversations around antiracism and inclusion are taking place in all parts of the community, from neighborhoods to schools to workplaces and everywhere else, Yang says.
"We aren't just focusing on specific sectors in the community — such as education or health care — but instead are taking a broader look to address institutional racism people experience in their day-to-day lives," Yang said. "That means thinking and talking about what people are experiencing as they are in the community doing everyday things like shopping, dining, looking for housing or a job, or playing at the park."
While the initiative is still so new that specific action items have not yet been determined, Yang says he expects some of its early work to center on connecting existing programs with people and resources who can help sustain and grow those efforts.
For example, the project could identify an agency that has few resources but is doing exceptional work around affordable housing and connect it to a well-resourced organization that also has an interest in affordable housing but no existing programs to address the issue, he says.
"So, part of this is being a bridge that helps connect the many entities, organizations and people who already are working on these things," Yang says. "We don't want any person or entity to be working as an island. If we can connect groups with the resources they need and then let them focus on their areas of expertise, we can make real progress."
Looking ahead
Given the amount of interest in and energy around the project, Yang is optimistic that those leading the effort will have many positive things to share about the new initiative in the coming months.
Already, Yang says, he sees opportunities everywhere he looks throughout the community. He also sees people interested in making the most of those opportunities, he says.
However, his advocacy work at UW-Eau Claire has taught him that making meaningful change takes time, and he is carrying that lesson with him in his work with CVTP, Yang says.
"Systemic changes take time, but those also are the changes that are the most impactful," Yang says. "We don't want to rush this because we want the work that we do to be sustainable; we don't want to start things that will fizzle out because we don't have the resources to support them.
"We know this is a heavy lift and the work will be ongoing, but we're excited that these efforts have begun."
Stronger together
Schmidt shares Yang's optimism and excitement, noting that the CVTP project's mission aligns well with UW-Eau Claire's 2025 strategic plan, which identifies EDI as one of its priority goals for the coming year, calling on the university to "build and maintain collaborative coalitions throughout our region."
UW-Eau Claire will be an important partner in the community-led initiative, Yang says. The university already has EDI expertise and resources that will be helpful to CVTP, he says.
"We are looking forward to continuing the conversation about how the university can contribute to our work," Yang says. "There are lots of positive examples on campus as well as in the community about things that are working well. So, if we can elevate the narrative around those successes or replicate them in other parts of the community, it will be helpful."
Civic engagement always has been part of UW-Eau Claire's mission, so working to address the region's most pressing needs is an ongoing priority for our campus, Schmidt says.
"Today, there are no issues more pressing than equity, diversity and inclusion," Schmidt says. "By being actively engaged with the Chippewa Valley Transformation Project, we will work with people throughout the region to create stronger and more antiracist and inclusive communities. As we work to make meaningful and lasting change in our region, we continue to build on UW-Eau Claire's already long legacy of civic engagement."