History professor helps build a more inclusive campus and community
A force for change
Story Judy Berthiaume; video by Gen Mabie
Rachel Hamele still was in her first months of college when she watched a woman calmly de-escalate a confrontation on campus between a visiting protester and a group of students he was harassing.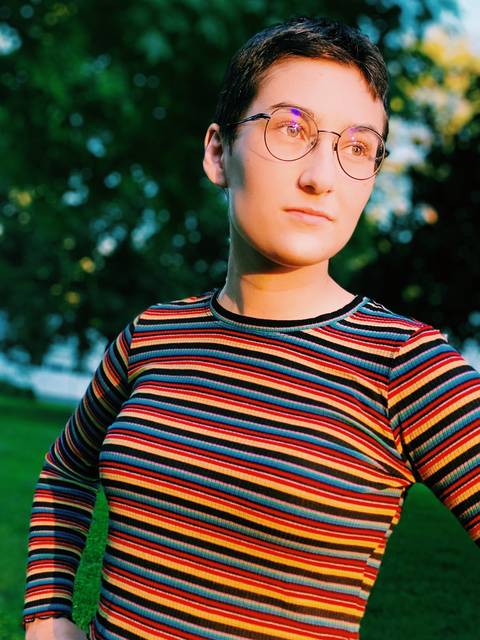 "She disseminated the crowd and preached love and kindness even as she was personally berated," Hamele, now a sophomore at the University of Wisconsin-Eau Claire, says of the woman she later learned was Dr. Selika Ducksworth-Lawton, a professor of history.
Impressed by her words and actions, she enrolled in one of Ducksworth-Lawton's history courses, and her professor soon became a mentor and friend, says Hamele, a Fort Atkinson native who is studying social studies education with concentrations in history and political science.
"I know for a fact that I would not be the person I am today without her," Hamele says.
It turns out that Hamele discovered what many people on campus and in the Eau Claire community say they have known for years — Ducksworth-Lawton makes people and communities better through her work as a teacher, advocate, mentor, activist, community-builder and leader.
"Selika has been a force for change on campus and in the broader community for as long as I can remember, and she has lifted up countless people along the way to be leaders in their own right," says Jeremy Gragert, a 2005 history graduate who now is a member of the Eau Claire City Council. "She is definitely one of the people who has inspired me and gives me new energy and knowledge to make a difference."
Her intellect, her interest in understanding how others see an issue and her patience are among the attributes that make her so successful in and out of the classroom, says Angela Pittman Taylor, a UW-Eau Claire graduate who was one of Ducksworth-Lawton's students and mentees.
"Selika is probably the smartest person in any room at any time," Pittman Taylor says. "Her empathetic insight and deep curiosity are huge advantages when it comes to community-building efforts because she seeks to understand all the inputs and how they might combine to drive meaningful outputs. She confronts challenges head-on in a way that is simultaneously respectful yet unyielding.
"She also sets a high bar, and she rolls up her sleeves to make sure everyone can reach it. She is a tremendous blessing to everything she encounters, whether it's immediately evident or not."
Ducksworth-Lawton's work hasn't gone unnoticed.
She received the 2021 Martin Luther King Social Justice Leadership Award and the 2021 UW System Board of Regents Diversity Award. She was named to the Black Power List of 2018 by Madison 365, recognizing her as one of the most influential Black leaders in Wisconsin.
Teacher, scholar, mentor
Current and former students, as well as faculty and staff across campus, agree with Pittman Taylor, describing Ducksworth-Lawton as a tremendous teacher, scholar and mentor.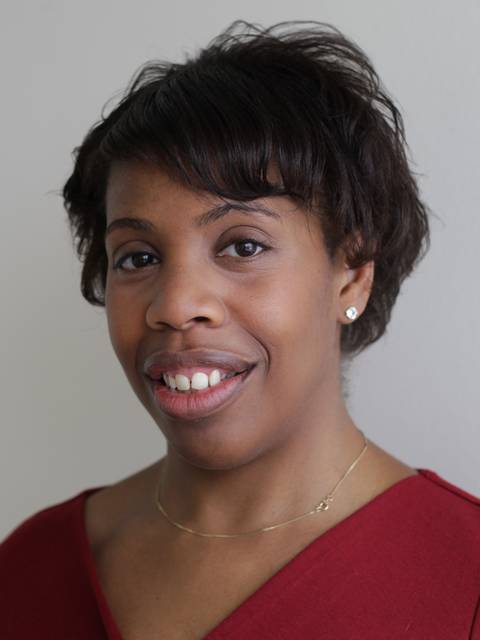 In addition to being one of her history teachers, Ducksworth-Lawton also served as the faculty advisor for the Black Student Association when she was its president, and "she quickly became a trusted mentor and friend," says Pittman Taylor, who earned her degree in public relations in 2000 and now works as a public relations manager for Baird in Chicago.
Pittman Taylor helped found UW-Eau Claire's Alumni of Color Network, an initiative that supports the university's equity, diversity and inclusion efforts. She says Ducksworth-Lawton helped organizers bring the project to life.
"A little while after graduation we started returning to campus each fall to mentor students and reconnect with alumni," Pittman Taylor says. "Selika has been one of our guides for the journey, providing valuable insights from her unique vantage point at the university and in the community about what the needs and opportunities are for the Alumni of Color Network to support current students."
Ducksworth-Lawton excels in all four areas UW-Eau Claire uses to evaluate faculty contributions, which include teaching, scholarship, advising and service to the university and the community, says Dr. James Oberly, professor emeritus of history.
Her classes are demanding and challenging, Oberly says, adding that Ducksworth-Lawton also has done important research in 20th-century U.S. history and has been an active mentor in faculty-student collaborative research.
"She is among the most patient of advisors to students, helping them make smart choices on the way to their degrees and their careers," Oberly says. "And, somehow, she has found time to give of her talents and leadership skills to numerous campus, Chippewa Valley, statewide and nationwide initiatives."
Since her areas of expertise are military and African American history, Ducksworth-Lawton is busier than ever helping her students and others understand how past events are shaping the country today. She also shares her expertise beyond the Chippewa Valley through published papers and consulting work, including with the U.S. military.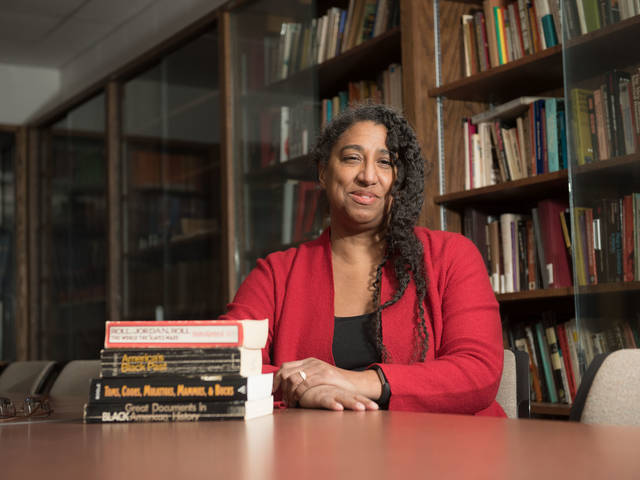 The Jan. 6 attack on the U.S. Capitol, the Black Lives Matter social justice movement and conspiracy theories tied to the presidential election are among the recent events that have left students and others scrambling to make sense of what is happening around them, Ducksworth-Lawton says.
"I see history as an applied social science and I treat it as such," Ducksworth-Lawton says. "So, I teach history as a decision-making tool, helping students to see how history influences our modern life. I help them see that what is happening right now in our country isn't new. When you put current events in the context of history, it really helps them understand it better."
For example, conspiracy theories have always been a part of U.S. history, and there always have been groups that are anti-government, she says. Change is difficult for the country, especially as new groups are empowered. So, there is much to be learned about the present by studying the past, she says.
As a future social studies teacher, Hamele appreciates that Ducksworth-Lawton makes time to help her see the connections between past and current events.
"If it were not for her class, I would not comprehend how our society is functioning today based on our history," Hamele says. "Her class was real and didn't dance around difficult subjects. Her class is what I imagined college would be like and more."
Outside the classroom, Ducksworth-Lawton connected her with the American Civil Liberties Union Student Alliance, a student organization that helped her become more civically involved and convinced her to add a political science emphasis to her degree program, Hamele says.
Contributing to the public good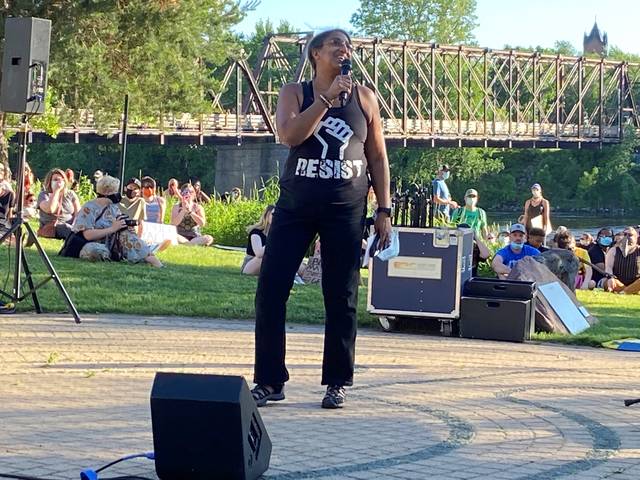 Ducksworth-Lawton, who describes herself as a "mediator and a doer," says as a professor at a public university, she believes the work she does outside of the classroom is just as important as what she does in the classroom, a philosophy she learned from her mentors at Ohio State University.
"They taught me that you don't get this education to sit in the ivory tower," Ducksworth-Lawton says of earning a Ph.D. "They have this belief that as educators, we also do service to the community. They taught me research informs your teaching, but it also informs your community. I was in Ohio when I learned about the Wisconsin Idea — the idea that we are to use our expertise to make everyday life better."
It was the Wisconsin Idea that made Ducksworth-Lawton want to teach at a public university and it was UW-Eau Claire's strong commitment to the community that brought her to campus in 1993.
However, she credits her family with instilling in her a passion for service and advocacy that still shapes her work and her life today.
Growing up in Louisiana, her parents were active in the community, her mom as an organist in her church and her dad as a coach and advocate for teens.
Memories of her father, who died when she was 14, still greatly influence her advocacy work, Ducksworth-Lawton says. A high school coach at a segregated high school, and then a coach at a junior high school after desegregation, her father was a respected youth advocate and mentor. He also was a skilled negotiator, teaching her the value of listening and working to understand a situation from multiple perspectives, she says.
"He was very much a helper in the community; he was a great mediator," Ducksworth-Lawton says. "He would mediate for the high school and junior high school students not only while they were in school but when they were out in the community. He would help get them out of trouble, and work with the police so certain things wouldn't be on their records."
While her father's methods were sometimes what she describes as "old school," she still learned a lot of important lessons from watching him step in, step up and hold people accountable for their actions, she says. He made a difference in the lives of countless young people in their community, she says.
"There are people who still reach out to me to remind me what he did for them," Ducksworth-Lawton says. "I never thought I would wind up doing many of the same things now that my father did during that time. But I am doing many of those same things. It's kind of spooky but I think it's good."
Her younger brother, Vincent, also taught her valuable lessons about empathy, understanding and respect, Ducksworth-Lawton says. Her brother, who died in 1997, was severely autistic and she was one of his primary caregivers. The memories of her brother, like her father, still influence how she lives her life, she says.
Today, it's students, faculty, staff and community members who reach out to her when they have a problem that they need solved, Ducksworth-Lawton says. She's much better at getting things done than she is at arguing about what needs to be done, she says.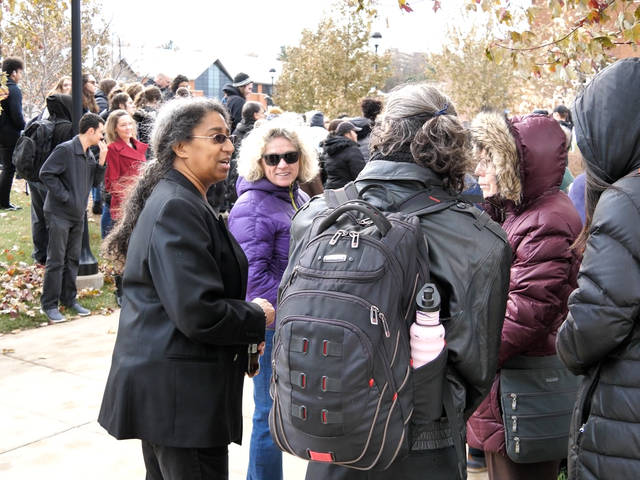 "People come to me when they need something done, not when they need to still fight," Ducksworth-Lawton says. "They come to me when they want to see a plan and a path to get things done. I've always been that way. But, while I do get things accomplished, I don't do it by running over people."
Hopefully, she says, people on and off campus see her as someone who listens to and respects others, even when their ideas differ from her own. She always tries to understand what others see that she does not, and to find common ground with those who do not agree with her.
"My college mentors and my mother taught me that a Ph.D. is just a credential that allows me to do a job; it doesn't make me better than anyone else," says Ducksworth-Lawton, noting that she was in high school and college when her mother earned her Ph.D.
While she works hard to live up to expectations, Ducksworth-Lawton says she has no problem admitting when does not have the answer. And, when it comes to EDI-related questions, she knows there often is no one right answer, she says.
"Certain things are just a mess, and it takes a while to figure out how to fix the mess," Ducksworth-Lawton says. "Some people want instant answers, but it took us 450 years to get here so we are not going to clean this up in a year, a month or a day. We need a cultural shift and that takes time."
A leader in equity, diversity and inclusion
While much work remains to be done before that cultural shift can happen, Ducksworth-Lawton is encouraged that progress is being made both on campus and in the community.
Already, people in other parts of Wisconsin and the country are looking to UW-Eau Claire and the city of Eau Claire for guidance because they see real change happening here, Ducksworth-Lawton says. She credits people and organizations' willingness to work together for making those changes possible.
"We are at a point where Milwaukee and Madison look to us," Ducksworth-Lawton says. "People come here to work with us because they say it's easier than working with groups around them. What we've done with police reform and with housing, that's getting state and national attention. We should be very proud of that synergy, proud of the idea that we work together to find ways to go around and over."
Leaders on campus and in the community are embracing the concept of public partnerships to make the area more antiracist and inclusive, Ducksworth-Lawton says. That also is a concept that many places are struggling to adopt, she says.
"We are working together, not against each other," says Ducksworth-Lawton, who is a member of the Eau Claire Police and Fire Commission and a leader in several campus and community EDI-related initiatives. "In the community, we're beginning to see groups working together so they are not competing against each other for grants or other things. We don't need to keep recreating the wheel."
Ducksworth-Lawton is among the reasons UW-Eau Claire and the city of Eau Claire are looked to as leaders, says Dr. Winnifred Bryant, a professor of biology, who describes her friend as "a happy warrior with an encyclopedic knowledge of history" and as a colleague who is passionate about teaching and the well-being of her students and a respected community activist.
"I would not describe her as tireless because she does this work even when she is tired or unwell because she believes the work must be done," Bryant says. "She will not wait passively for others to do it. If she can drive the bus, she will. No vainglorious. She just wants all of us to win."
A trusted and much valued friend and mentor, Bryant says Ducksworth-Lawton continuously "reaches back to help women and faculty, staff and students of color."
Ducksworth-Lawton is co-president of Uniting Bridges of Eau Claire, a nonprofit that advocates for underrepresented groups in the area. Its leaders and members include faculty, staff and students as well as local governmental leaders and community members.
Already, the group has proven the value of bridging the gap between the campus and community, she says. For example, Uniting Bridges organizes Martin Luther King Jr. Day and Juneteenth celebrations, both of which draw large numbers of people from campus and the city, she says.
This past year, after rallies protesting police brutality and demanding social justice reforms swept across the country, including in the Chippewa Valley, local advocates recognized that they need to do more educating of people about all kinds of EDI issues and topics, Ducksworth-Lawton says.
So, Uniting Bridges and Converge Radio worked together to launch "Conversations in Color," a series of programs that focus on EDI topics while also modeling how to have difficult but necessary conversations around equity, diversity and inclusion. Programs already have touched on topics like mass incarceration, defunding the police and Hmong in the Chippewa Valley, and upcoming conversations will include topics relating to religion, race and sexuality.
"We have the same problems the rest of the country has, but, unlike the rest of country, we are addressing them," Ducksworth-Lawton says of the Chippewa Valley "That makes this a good place to be. There are knuckleheads everywhere, but here people will stand up to them."
Projects and recognitions
In addition to Uniting Bridges and co-hosting the "Conversations in Color" series, Ducksworth-Lawton serves on numerous other EDI-related initiatives on campus and in the community and holds leadership positions in several professional groups and associations.
She recently joined the advisory committee of the newly created Chippewa Valley Transformation Project, which aims to build a more antiracist and inclusive community.
On campus, Ducksworth-Lawton is co-chair of the Anti-Racist Faculty and Staff group, is a facilitator or lead in countless professional development opportunities in collaboration with the Center for Excellence in Teaching and Learning, which includes serving as a leader of reading and focus groups for EDI training for the campus community. She is a past EDI Fellow for UW-Eau Claire, and is playing a critical role in creating the 2025 EDI Implementation Plan for campus.
In Eau Claire, she is a trainer for the Black and Brown Women's Network and a member of the Eau Claire Police and Fire Commission.
Beyond the Chippewa Valley, she serves as regional and development co-chair for the 2021 Toward One Wisconsin conference, aimed at bringing EDI into workplaces, and is the Eau Claire-area liaison to the ACLU of Wisconsin. She also serves on the advisory board for HistoryNet, an online forum for sharing history-related news or stories and is active in professional conferences and other organizations.
Looking ahead
As she looks ahead, Ducksworth-Lawton is optimistic about Eau Claire's future, though change will come only if more people reach out to find common ground. Fortunately, she says, many people on and off campus say they are ready to do that work and to have those hard conversations, though they will be uncomfortable for many people.
"We must talk about what liberty and justice means, and why having second-class citizens, having marginalized citizens and tolerating abuse and corruption are not good for democracy," Ducksworth-Lawton says. "Those hard conversations will happen because a majority now want to have them."
Knowing she is playing some part in moving the UW-Eau Claire campus and city of Eau Claire forward is rewarding, she says.
"I hope my legacy will be that I have helped in some way," Ducksworth-Lawton says. "These are not easy problems to solve, but I hope I am helping to create a pathway for people, and that I will have helped make this a little better, a little more tolerant place."