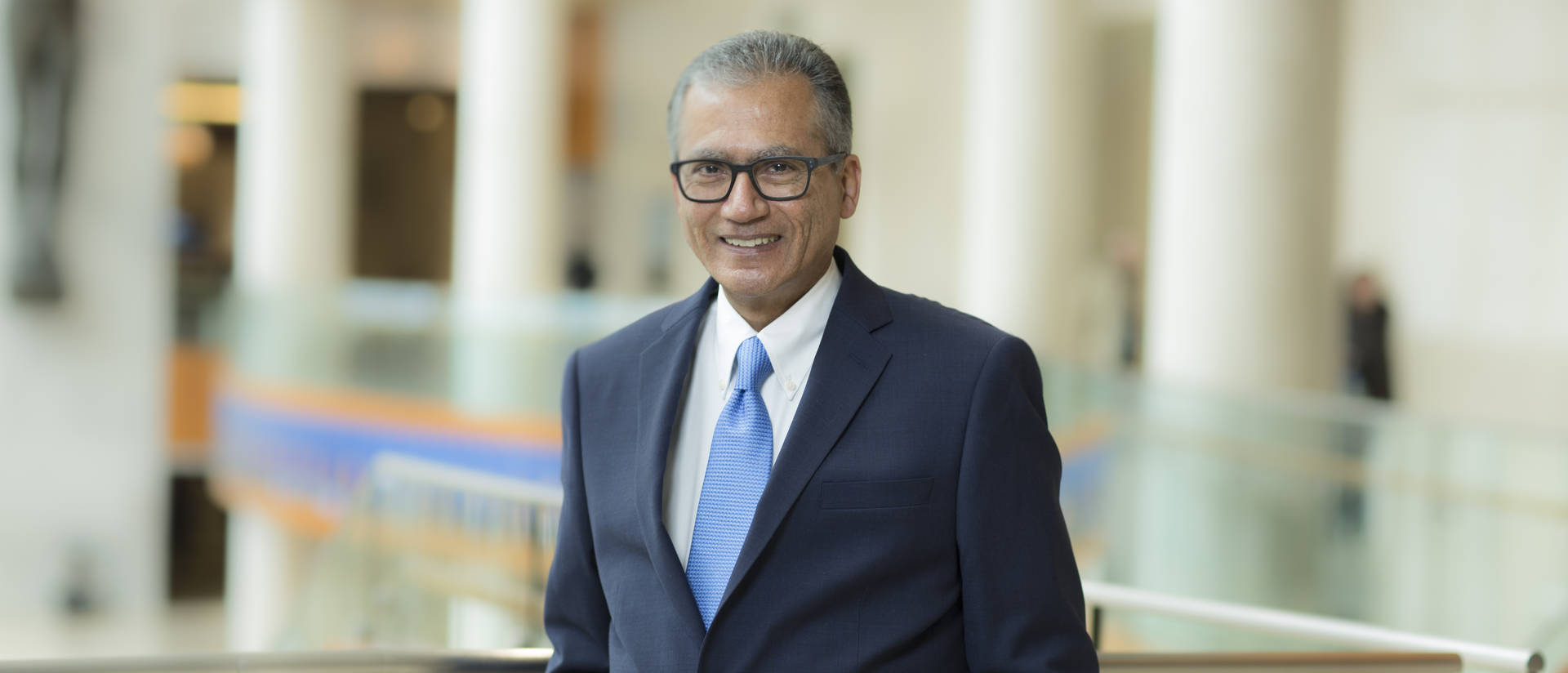 Using data, technology to improve patient care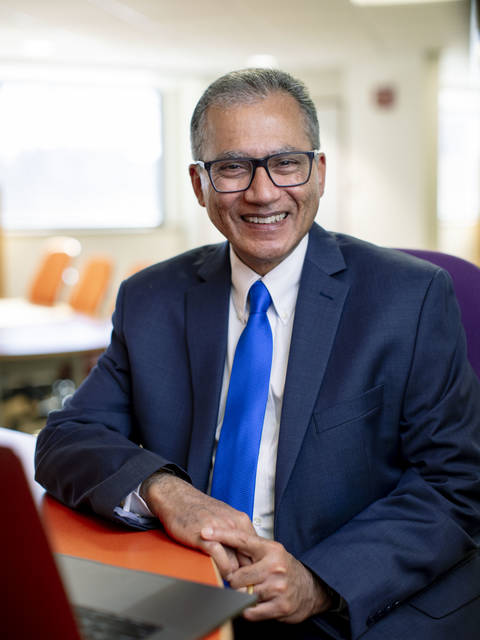 Dr. Rajeev Chaudhry has yet to step foot on UW-Eau Claire's campus because of the COVID-19 pandemic, but the Mayo Clinic physician already is creating opportunities for Blugolds to gain real-world experiences in the emerging and growing field of artificial intelligence (AI) and biomedical informatics.
In December, Chaudhry — an expert in analyzing incredibly large datasets to help health care organizations improve patient care — began a new role with Mayo Clinic Health System in Eau Claire, a position that includes dedicated time to work with UW-Eau Claire faculty, staff and students on research projects that relate to AI, machine learning, and data mining and analysis.
"Health care is all about data," says Chaudhry, now the regional director of AI and biomedical informatics for Mayo Clinic Health System with a joint teaching appointment at UW-Eau Claire. "Everything — patient questionnaires, labs, pathology — it's all data. AI and biomedical informatics is about making better use of that data to take better care of our patients."
"Health care is all about data," says Chaudhry, now the regional director of AI and biomedical informatics for Mayo Clinic Health System with a joint teaching appointment at UW-Eau Claire. "Everything — patient questionnaires, labs, pathology — it's all data. AI and biomedical informatics is about making better use of that data to take better care of our patients."
Two longtime Mayo Clinic Health System leaders, Susanne Degen, vice chair of administration, and Timothy Hagmann, operations administrator, will work with Chaudhry in the newly created department of AI and biomedical informatics. Their experience with and knowledge of Mayo Clinic Health System, UW-Eau Claire and the Eau Claire community will be invaluable, Chaudhry says of his team.
In their new roles, Chaudhry and his team members will act as a bridge, connecting physicians who identify technology- and data-related health care needs with Blugolds who can find them solutions.
"What better way to meet challenges in health care than partnering with a university," Chaudhry says. "I'm excited about how these collaborations and partnerships will change health care and help educate future generations of professionals who will travel many different roads, especially given the recent investments Mayo Clinic has made in the field of data and cloud computing to make it easier for new discoveries."
Solving problems together
Chaudhry already is successfully bringing together his physician colleagues with UW-Eau Claire researchers who have expertise and interest in using technologies and data analysis to solve problems.
For example, after learning of a radiologist's interest in AI and radiology images, Chaudhry introduced him to Dr. Rahul Gomes, an assistant professor of computer science at UW-Eau Claire whose research interests include AI and machine learning.
"I put the two together and both are excited," Chaudhry says. "They bring complementary assets as they are working together to improve the safety of patient care."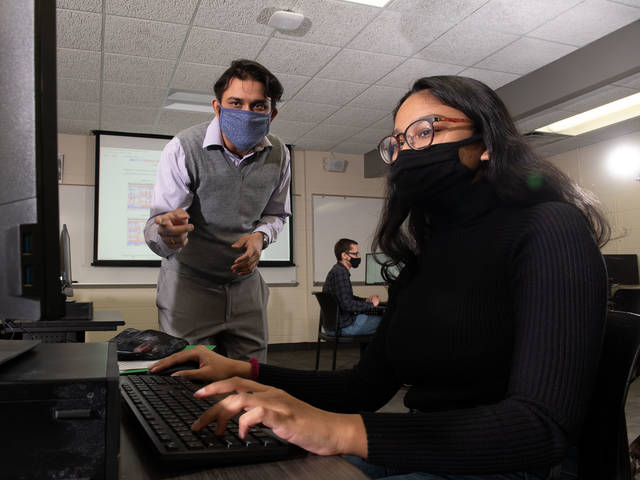 Through their collaboration, Gomes and his students are working to develop a framework for using AI to detect and monitor filtering devices used by physicians to reduce risks associated with blood clots but must be removed after a defined time to reduce complications from the device.
"Detecting and monitoring these filters is very important to ensure patients' good health," Gomes says. "Using images obtained from medical scans, and leveraging the power of Google AI, we will work to automate the process so that it can provide rapid screening of IVC filters with state-of-the-art precision.
"Dr. Chaudhry's experience in the field of bioinformatics forms a bridge so we can apply our expertise in developing algorithms that can be used by doctors and health specialists at Mayo in several domains who rely on these technologies to save lives."
Given the significant increase in digital information in the health care sector, processing the amounts of information available is challenging, Gomes says. Automating some of these tasks — such as detecting the filters — can make them faster and more accurate, he says of the value of biomedical informatics.
In the future, Gomes hopes to be part of interdisciplinary projects where machine learning is an integral component in processing biological data. Machine learning is an AI application process that gives computers access to data, which it uses to predict outcomes without being explicitly programmed.
Chaudhry and Gomes already are exploring potential ideas for future collaborations, such as the application of deep learning for classification and object detection in biomedical images, application of data mining algorithms on text, and image data for pattern knowledge and discovery.
These kinds of projects will help students develop their skills and knowledge, but also their understanding of how their work can make a difference in the world around them, Gomes says.
"As a computer science faculty member with research interests in deep learning and bioinformatics, I feel these collaborations will give our students a fresh perspective about how they can contribute to benefit human health," Gomes says. "As a top-tier undergraduate research institution, our CS majors can graduate with firsthand experience of what it is to be involved in real-world projects that have a direct impact to society."
"As a top-tier undergraduate research institution, our CS majors can graduate with firsthand experience of what it is to be involved in real-world projects that have a direct impact to society."
Chaudhry also recently connected Dr. Michael Walsh, assistant professor of materials science and biomedical engineering, with a Mayo Clinic Health System medical oncology specialist who is a world-renowned expert on sarcoma, which is a type of cancer. Walsh's areas of interest include caring for patients with sarcoma.
"I connected them so they can see how their working together could lead to new discoveries in care of these patients," Chaudhry says.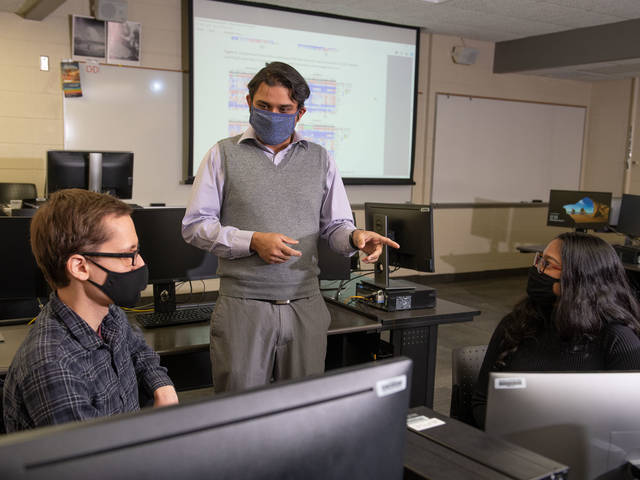 Walsh is excited to be starting several new research projects with clinicians at Mayo Clinic Health System, all focused on advancing new technologies for clinical implementation. His research lab is focused on developing new label-free biophotonic methodologies that can identify diseases sooner than current methods and help doctors better guide patient treatments, says Walsh, whose research lab specializes in research in cancer, diabetes and fibrotic disorders.
"One of the most important emerging areas in the field of medicine and health care is the use of new computational and engineering techniques that promise to revolutionize health care," Walsh says. "As such, it is critical that the next generation of health care providers and medical researchers are taught to solve problems that exist within health care. This means training students to have close collaborations, internships and research projects with health care experts at Mayo Clinic Health System."
He appreciates the work Chaudhry is doing to identify and build important research collaborations and welcomes his expertise in the use of bioinformatics for solving medical problems, something that will be an important focus at UW-Eau Claire in the future, Walsh says.
Bringing a research agreement to life
It is these kinds of collaborations — partnerships that provide students with meaningful learning experiences and physicians with the research expertise they need to enhance patient care — that UW-Eau Claire and Mayo Clinic Health System leadership envisioned when they formalized a research agreement between the two organizations several years ago, Chancellor James Schmidt says.
Having someone with Chaudhry's expertise given dedicated time to build relationships with UW-Eau Claire faculty, staff and students is an extraordinary opportunity for both organizations, Schmidt says.
Dr. Richard Helmers, regional vice president for Mayo Clinic Health System, northwest Wisconsin, agrees, noting that Chaudhry has the knowledge and experience to help the health care organization improve patient care and to assist the university as it brings biomedical informatics into its academic programming and research initiatives.
"It's really a perfect series of events," Helmers says of Chaudhry accepting a new position in Eau Claire, a position that includes some time dedicated to the university. "I'm so excited about how it's worked out that I almost have to pinch myself. He has incredible expertise, incredible enthusiasm and humility, and he is a great physician."
The enthusiasm leaders at UW-Eau Claire and Mayo Clinic Health System have for working together is among the reasons he was eager to accept his new position in Eau Claire, Chaudhry says. He has long admired Helmers, and already is impressed by Schmidt and other UW-Eau Claire administrators, he says.
"There is no daylight between Dr. Helmers and the chancellor when it comes to working together," Chaudhry says. "That's what is so fascinating about this opportunity. If the leaders are together, then the work can really happen."
People working in health care do not always understand how technology and data can help them improve care, and those working in technology do not know what the health care industry needs are, Chaudhry says. So, bringing people from the two organizations together to have those conversations about how they can work together on initiatives is invaluable, he says.
"When you work on your own, you make some progress," Chaudhry says. "But if you put people from different backgrounds together, you make so much more progress than you could ever imagine."
Chaudhry says bringing people with different areas of expertise together to collaborate on research is much like building a successful football team.
"Everyone has a role to play," Chaudhry says. "If everyone does their job, the team will win. Both UW-Eau Claire and Mayo Clinic Health System have players we need on the team to win."
Biomedical informatics and AI
Chaudhry discovered his talent and passion for using data and technology to improve patient care more than 20 years ago while overseeing a division of community internal medicine at Mayo Clinic.
To ensure quality care, physicians had to thoroughly review every patient's medical history and needs regardless of the purpose of their visit, Chaudhry says. So, for example, if a patient came in to discuss back pain, the providers also would review everything from cancer screenings to vaccinations, he says.
However, reviewing every patient's medical records during every visit is a time-consuming process even with the help of nurses, Chaudhry says. It left less time for physicians to spend directly with their patients during each visit, he says, noting that more time interacting with patients means better care.
"So, I knew all the data was there but wondered why we had to have a human write it down every time a patient came in," Chaudhry says. "I started thinking about the need for an electronic system that could look for the relevant information or recommendations and share it with the care team in real time."
After working with Mayo Clinic's business development, they launched a software technology company, called Vitalhealth Software (VHS), to develop a software system that could retrieve the needed data, apply guideline-based recommendations electronically, and deliver the knowledge to care for patients to the physicians and their care team, Chaudhry says.
"Everyone saved valuable time," Chaudhry says of the software system's impact. "Providers used that time to focus on patient care needs, and the patients stayed on track with all their important preventive screenings or treatments for their chronic conditions."
After the new system was in place, he found that patients were reporting significantly higher levels of satisfaction with the care they received at Mayo Clinic, and all members of the care team reported greater satisfaction in their work, Chaudhry says.
"Nobody goes to medical school or becomes a nurse because they want to input data or find data from the medical records; they do it because they want to provide care to patients," Chaudhry says. "We made it easier for them to do that, so they just loved the new software system."
Given its early success, Mayo Clinic began using the electronic system in all its primary care practices in Rochester. Eventually, Chaudhry began investing more of his time and energies into helping develop other software technology solutions to help and transform many different practices within the Mayo Clinic organization.
Based on the initial work done at Mayo Clinic, VHS developed many disease management software solutions that were successfully used in other parts of the world, including in Europe, the Middle East and China, Chaudhry says. In 2017, VHS was acquired by another company, Philips.
"I got lucky," Chaudhry says of his work on the project. "I saw a need and had an opportunity and I grabbed it with both hands."
Coming full circle
Chaudhry grew up in a small city in India with a university at its center, a town similar to Eau Claire in many ways, he says.
Growing up, he had dreams of being an engineer, but he became a physician instead because the medical school was in the same city, meaning he could continue to live with his parents while earning his degree, he says.
"I grew up wanting to be an engineer but became a doctor out of necessity," Chaudhry says. "Then I got this opportunity at Mayo Clinic to work with computer scientists to improve health care. So, I am fortunate because I got to have the best of both worlds.
"And, since Eau Claire is a university town much like the town I grew up in in India, moving to Eau Claire feels a lot like coming home."
Having a new position that will involve teaching and interacting with college students also feels a bit like coming home, Chaudhry says. Early in his career, he taught medical students and residents at UW-Milwaukee, an experience he greatly enjoyed.
He's excited to now interact with undergraduate students who will use the knowledge and experiences they gain from their collaborations with Mayo Clinic Health System to follow any number of career paths, Chaudhry says. While they will have many opportunities in various sectors, he expects some of the students to find their career path within the health care industry.
"Health care already employs 15-18% of the population, but not everyone is a physician or a nurse," Chaudhry says. "There are so many people needed in many areas beyond direct patient care. We need people with expertise in things like technology and prevention and public health. These and other needs will continue to grow, so we have to make sure students are ready."
His goal is to work with faculty members from UW-Eau Claire's computer science and biomedical engineering programs to identify multiple research initiatives that can be completed in a relatively short amount of time so students can be involved in a project from start to finish, Chaudhry says.
Since students have coursework and other responsibilities, they have limited time to devote to research, so projects must be designed in ways that recognize that reality, he says.
"Making sure students get good, practical experience with tangible outcomes is key," Chaudhry says. "That means prioritizing small, lean projects. Giving students good experiences and letting them see the outcomes is critical for their learning and future success."
Chaudhry also says he is eager for people to see what can be accomplished when a world-renowned health care organization works collaboratively with undergraduate students at a public university.
With that in mind, he and his team will work to ensure that faculty-student research done in partnership with Mayo Clinic Health System is published in journals, presented at professional meetings and shared publicly in other ways so it brings attention to the research outcomes as well the researchers and the university.
Elevating the opportunities Blugolds have to work on research that changes lives will help attract other ambitious students and faculty, and will enhance the value of all UW-Eau Claire graduates' degrees, Chaudhry says.
"It's really a perfect series of events. I'm so excited about how it's worked out that I almost have to pinch myself. He has incredible expertise, incredible enthusiasm and humility, and he is a great physician."