Art meets ecology on campus: The Blugold Beetle
Recycled trees become a post-COVID gathering place
Story by Denise Olson, video by Glen Mabie
With the arrival of the COVID-19 vaccines, a return to life as we knew it begins to come into focus. For Eau Claire artists Joe Maurer and Tim Brudnicki, a critical part of that "return to normal" will be folks gathering once again, so creating spaces to foster reconnection and meaningful interaction is important.
"We've missed a year of social interaction," says Brudnicki, a local woodworking craftsman and artist. "As people sort of come out of hiding, our idea was to create beautiful spaces that promote real interaction once again."
Enter the Blugold Street Beetle, an upcoming public art installation created from upcycled local ash trees, which combines Maurer's artistic vision and design with Brudnicki's woodworking expertise and craftsmanship to create just that type of space on the University of Wisconsin-Eau Claire campus.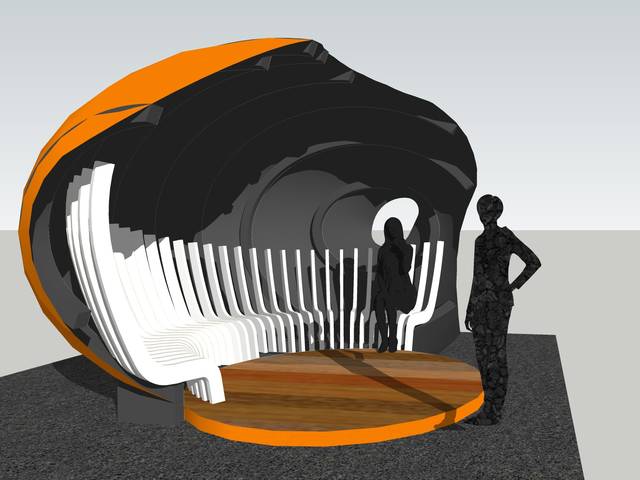 The Street Beetle, as they have named it, is a domed wooden shelter roughly the size of a vehicle, with a curved bench, able to seat up to five people. By the time it's completed, the project will have taken the pair roughly a year to finish.
"We wanted a space where people can sit and have conversation, safely seated opposite each other on a long curved bench, yet connected," says Maurer, a painter and landscape architect.
To be positioned along the edge of the campus stream in front of the new Flesch Family Welcome Center, the Blugold Street Beetle will offer a stunning yet intimate location to take in the beauty of lower campus.
"We wanted a space where people can sit and have conversation, safely seated opposite each other on a long curved bench, yet connected," Maurer says.
"We are elated about the location. Prior to knowing exactly where the project might land, we had a wish list of spots around the city that we thought would be exciting, and none could be cooler than right there on campus next to a high-profile building," Brudnicki says, adding gratitude to the UW-Eau Claire Foundation for making it possible for campus to become the Street Beetle's home.
Form, function and sustainability
With an eye toward sustainability from the start, the public art project incorporates local wood from the campus and city, trees lost either to necessary construction and utility upgrades or to the destruction of the indigenous ash trees by the emerald ash borer.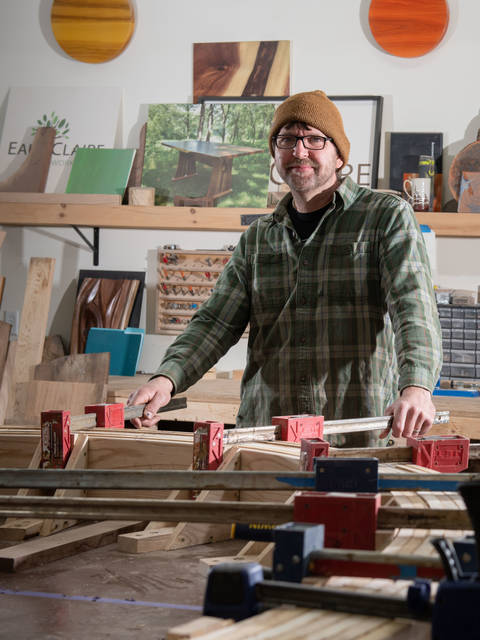 Brudnicki's woodworking and furniture business, Tree Purpose of Eau Claire, is devoted to repurposing salvaged wood in the Chippewa Valley, and has created one-of-a-kind furnishings and design elements for area clients such as Ambient Inks, the Oxbow Hotel and Lakely Restaurant, and Pine Hollow Studio.
When UW-Eau Claire began a major renovation of Garfield Avenue in 2017, Brudnicki was contacted about salvaging the trees that would be removed.
"They had heard about the work I had been doing with recycled logs from the city and asked if I'd be interested in these trees," he says. "So as part of the project I inherited about 35 campus trees of different species. Many of those logs have been used in projects around the city already, but the skin of the dome will be created from what remains of those trees."
Maurer had a goal from the onset to build the bulk of the structure with ash, a species rapidly disappearing from the landscape.
"We're going to lose roughly 10 million ash trees in Wisconsin alone to the emerald ash borer, so it's a significant ecological impact," he says. "This is really a recycling project — we're taking this wood and giving it a new life rather than putting it through a chipper."
With a degree in landscape architecture from the University of Pennsylvania, Maurer spent six years creating landscapes on the East Coast. Since returning to the Midwest 10 years ago, he has taken advantage of the landscape earnings to pursue art projects.
Maurer's purpose in creating public art is not to simply create something nice to look at, but to improve a landscape with something that enhances the overall experience of people in that space. In recent years, he has assisted in the construction of public art installations at the Eaux Claires Music & Arts Festival.
"When I work in the landscape, I don't just want to make an object and put it there and have it be about the object — it's as much about the flows that happen through it," he says. "It's the natural elements, the wind, the sound of the leaves, the water, as well as the people flows."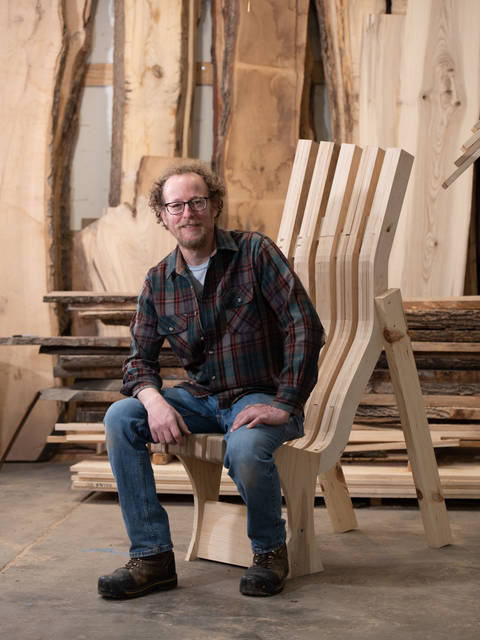 "This project is a piece of architecture, and I have an idea of that architecture in the beginning, but what it becomes later and what it wants to be is something entirely different. We're learning as we go in these applications; much was unknown when we started. The collaboration is really pretty exciting."
Brudnicki also enjoys a collaborative project of this scale, as it provides that shared experience of trial and error, a process of bouncing ideas off one another and ultimately seeing what sticks.
"Joe and I have been wanting to do a project for a while. Having a collaborator on a major project is really nice," Brudnicki says. "As doubts come in, or mistakes happen and maybe the wrong tapes are playing in my head, it's nice to be able to talk each other off the cliff as the job progresses."
A third collaborator will join the later stages of the project, when local author Nickolas Butler adds his wordsmithing and creative thinking to a series of discussion prompts carved into the interior of the shelter. Intended to spark meaningful conversation among the folks inside, these prompts will be hidden within the interior of the structure.
Alumni and students back project with significant funding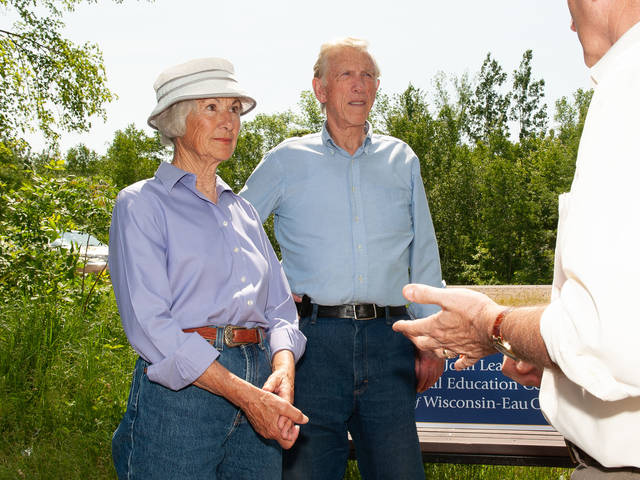 The UW-Eau Claire Foundation has received several alumni gifts in support of this unique sustainable art project, and alumnus Jim Leary, '56, is especially grateful for the opportunity to honor the memory of his wife Joan and her life's passions through his significant financial support of the Blugold Beetle.
"Even as a young child, Joan was passionate about nature," said Leary. "She planted over 10,000 trees on our land, and at age 80 climbed to the top of the Sawtooth Mountains in Idaho for the joy and challenge of joining her grandchildren Sage and Phoenix Leary, now students at UW-Eau Claire, as they all summited the spectacular peaks together. She always said that 'nature is never wrong.' What makes this gift special for our family is that we supported the outdoor classroom at the entrance of Putnam Park on one end of campus and now this sculpture will rest on the other end. As she surrounded our family with her love, now we hope her presence will surround the Blugold family."
"What makes this gift special for our family is that we supported the outdoor classroom at the entrance of Putnam Park on one end of campus and now this sculpture will rest on the other end." Jim Leary, '56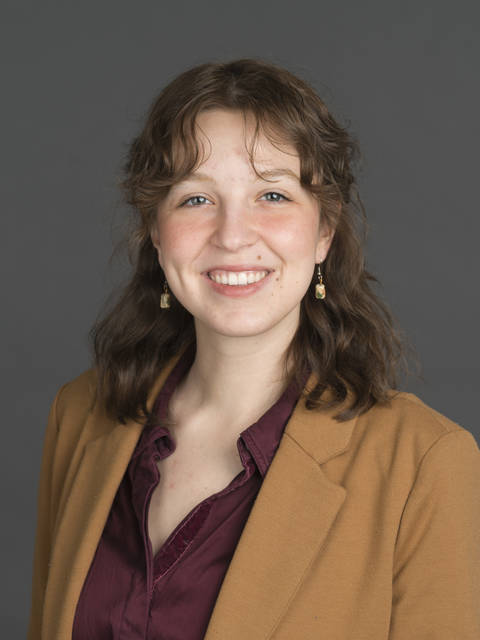 In addition to generous donations from Blugold alumni, one-third of the cost of the Street Beetle is being provided by the Student Office of Sustainability, one of the nine commissions of the UW-Eau Claire Student Senate. Commission president Lauren Becker, a senior environmental geography major from Blanchardville, explains why her commission representing the student body is pleased to back this project.
"The Student Office of Sustainability has chosen to allocate $10K from our Green Fund toward this project," Becker says. "Blugolds are concerned not just with ecological health, but also about equity, public health and social well-being. This is a project that hits on all of these pinch points."
Becker notes that SOS previously committed funds to the general landscaping around the Flesch Family Welcome Center, and the Beetle structure will further enhance that important new campus location.
Paths converging in public art
Brudnicki and Maurer, who met five years ago through art and social justice activism in the Chippewa Valley, have both created public art in the past, but this is their first project together.
As an art student at the Minneapolis College of Art and Design studying painting, Maurer was strongly influenced by the work and teaching of Kinji Akagawa, an American sculptor, printmaker, arts educator and pioneer of the public arts movement.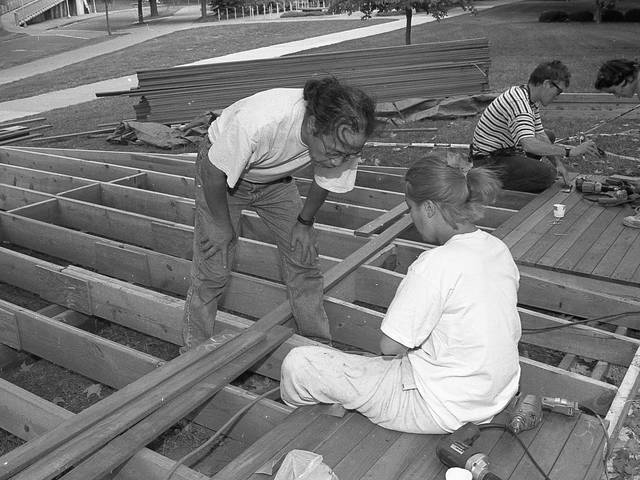 "He was always pushing me to take my art to a new level, to take it outside. He said 'Joe, you don't need to be only a gallery artist,'" Maurer says about his mentor, who created one of the first sustainable public art installations at UW-Eau Claire.
In 1994 Akagawa designed a garden and seating area in front of McIntyre Library that incorporated reclaimed lumber from the original Council Oak Tree, destroyed in a 1987 storm. The Akagawa installation, beginning to fall into disrepair, was removed in 2018 during the Garfield Avenue redevelopment project.
Brudnicki has completed several sustainable projects throughout Eau Claire and always includes care and maintenance of the pieces in a project budget.
"All of these projects are my babies, and I communicate up front what will be required to maintain them," he says. "I like to personally go around and check on 'my kids' to take care of any needed repairs. But the idea is to use the best finishes and applications for the climate and location, so that upkeep is minimal."
The installation of the Street Beetle, set to coincide with the Welcome Center grand opening in October 2021, likely will take advantage of student labor in piecing together the sizable wooden elements of the structure.
The artists look forward to the campus and community enjoying the unique space to gather, relax and engage in conversation, and they also hope to create additional campus projects in the future.
"We have this vision to decorate campus with beautiful things," Brudnicki says.
"This is our first project in this new partnership, and we have ideas for more sustainably designed outdoor embellishments, whether that's canopies or seating pods. I have a macro goal in life of bringing beauty to the spaces where I live. I see campus as a great opportunity to do that."