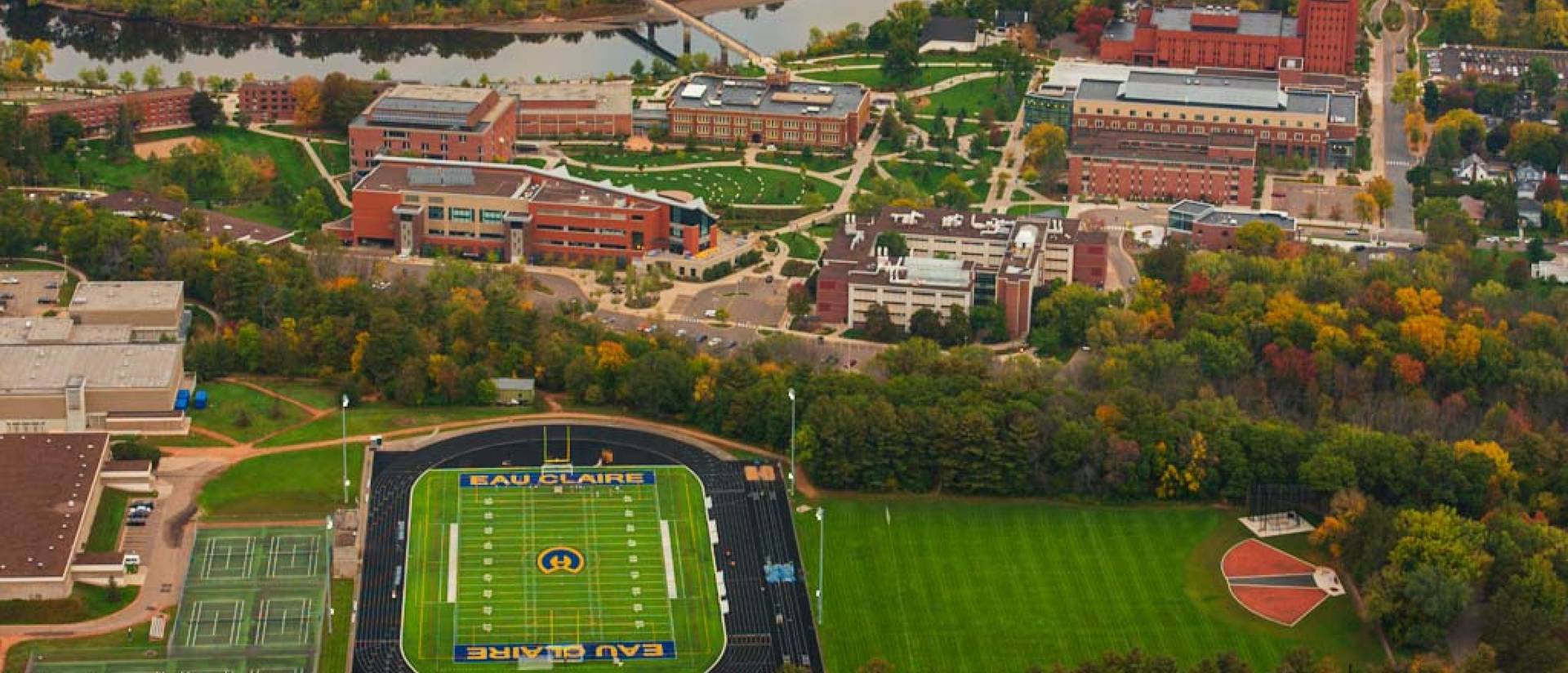 UW-Eau Claire's reputation as "Wisconsin's Most Beautiful Campus" is well-deserved. Putnam Park is a natural treasure used as an outdoor classroom that runs through the heart of campus. Little Niagara Creek borders the Central Campus Mall and its expansive green space. Redeveloped Garfield Avenue is the front porch to UW-Eau Claire, stretching along the pristine Chippewa River. The physical development of campus state-of-the-art buildings constructed in the past decade show the university's commitment to maintaining our motto of "Excellence." And more is to come with construction of the County Materials Complex underway and the new Science and Health Sciences Building on the horizon.
Campus happenings
If your last time in Eau Claire was more than 10 years ago, you might not recognize the campus after the decade of near-constant transformation. The meaningful connections with faculty and staff, pride for the institution and appreciation of the beauty of our campus continues. We're so proud that many more of our facilities are continuing to match that reputation while serving as great places for students to learn, live and connect.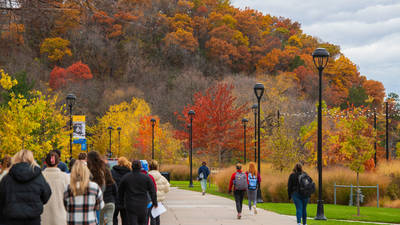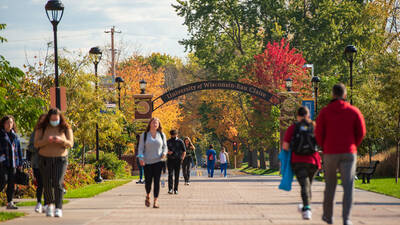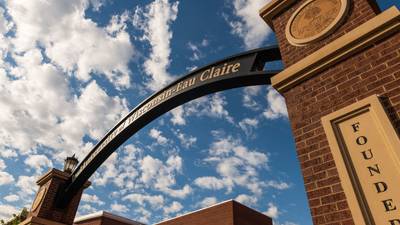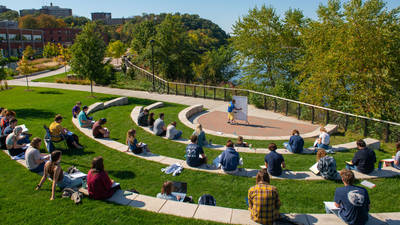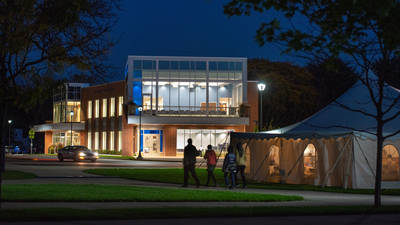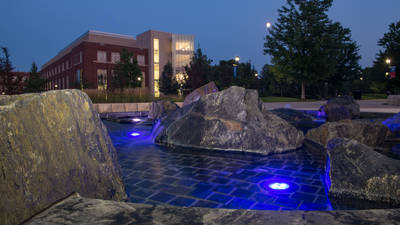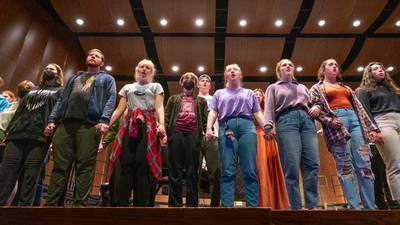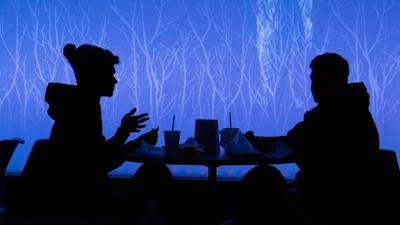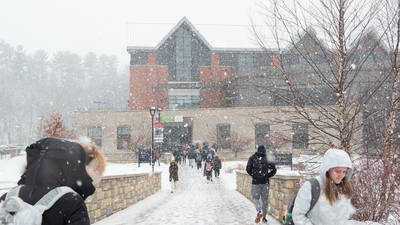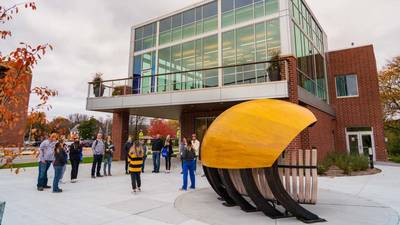 Flesch Family Welcome Center
The Flesch Family Welcome Center opened in Summer 2021 and houses UW-Eau Claire's Admissions Office, the Alumni Association and UW-Eau Claire Foundation. The center name honors Tom and Jeannie Flesch, UW-Eau Claire alumni who made a lead gift to the UW-Eau Claire Foundation to support the project. The building is the front door of the university and serves as the main entry point for more than 17,000 prospective students, parents and guests who visit campus throughout the year. Constructed entirely with private funds donated by generous alumni and university supporters, the building's conference rooms and offices feature familiar names of donors who have invested in the new "first impression" of UW-Eau Claire.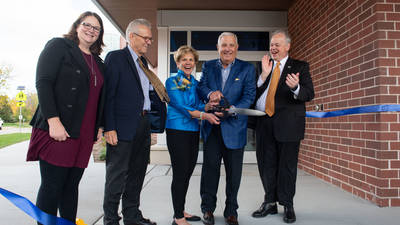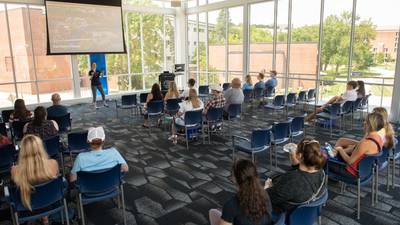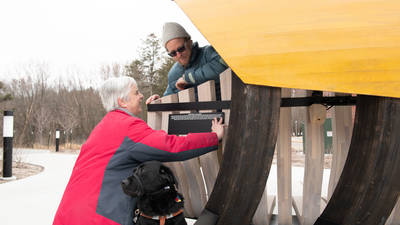 Work begins on County Materials Complex fieldhouse, event center
Construction is underway for the $107 million state-of-the-art County Materials Complex – the largest indoor event venue in northwest Wisconsin. Alumni donors John and Carolyn Sonnentag, who contributed $70 million toward the project, and many others involved in the project were on hand to celebrate the groundbreaking for the facility on April 25. The John and Carolyn Sonnentag Fieldhouse, the Sonnentag Event Center and the Mayo Clinic Health System Diagnostic Imaging and Sports Medicine Center are expected to be open for the May 2024 commencement.
Save the date for Homecoming 2022: Oct. 7-8
There's no better time to be a Blugold than during the Homecoming festivities! Make a trip back to Eau Claire to watch the parade, celebrate and cheer on the Blugolds at the football game, and enjoy other activities and reunions throughout the weekend.